Albany State University to offer 100 free passports to study-abroad students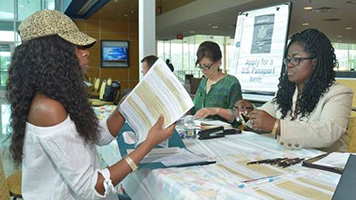 Albany Herald
Staff Reports
news@albanyherald.com
Oct 18, 2017
Albany State University student Cauntillia Pollard, left, submits documents to a U.S. Postal Service passport agent during a recent "Passport Caravan." (Special Photo: Reginald Christian)
ALBANY — As part of Albany State University's efforts to encourage global insight and unique cultural experiences, 100 ASU students received funding recently for free passports. The event was a collaborative effort between the university and the Council on International Educational Exchange's "Passport Caravan."
"A traveling passport is a gateway to studying abroad," Nneka Osakwe, director of the ASU Office of Global Programs, said. "The collaboration with CIEE and ASU is helping to bring the funds required to fund at least 100 students to get a free passport. We are hoping that this will motivate more students to get a passport and study abroad."
During the event, students submitted first-time U.S. passport applications and supporting documents. Each $135 application fee was paid by the CIEE and the ASU Student Affairs and Success division. Students first visited the Office of Global Programs table to learn what study-abroad opportunities are available. Then students spoke to CIEE representative Stacey Woods to receive funding for processing. They submitted all required materials to the visiting U.S. Postal Service passport agents. Passports will be delivered in the next few weeks.
To be eligible for the passport, students must be first-time passport recipients and be in their freshman, sophomore or junior years of college.
"This opportunity was honestly a blessing," said Cauntillia Pollard, a junior who is majoring in psychology. "I know a lot of people who say they have not traveled out of the country because they do not possess a passport. Usually, the reason for not having a passport is the cost. For the school and the organization to pay for 100 passports is just awesome."
So far this year, 36 ASU students participated in study-abroad opportunities in Belize, China, Japan, France, India, and Trinidad and Tobago. The CIEE works with universities and institutions around the country to sponsor passports for 10,000 students as part of its participation in the national Generation Study-Abroad initiative. The Passport Caravan seeks to aid diverse students who are underrepresented in study-abroad opportunities.
© Copyright 2017 Albany Herald