AT&T donates to Albany State University for student scholarships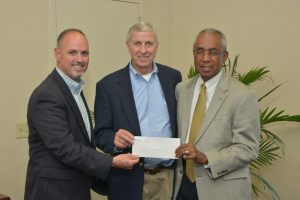 ALBANY – AT&T is helping to support higher education in Southwest Georgia. The company recently made a donation to the Albany State University Foundation to support scholarships.
Courtney Brinson, AT&T Georgia regional director of external affairs, presented the donation on May 17 to ASU President Art Dunning and Randae Davis, ASU Interim Chief Development Officer.
"We appreciate our partners at AT&T for investing in the education of our students," Dunning said. "As we move forward to ensure Albany State University is the destination of choice for students in the region and all over the nation, support from corporate partners is essential. This contribution will assist students in continuing on the path toward earning a college education."
Brinson and AT&T have a long and valued relationship with ASU, having generously donated in previous years.
"The cost to attend college has increased over the last few years. As a result, more students are in need of financial assistance from the ASU Foundation," Davis said. "We understand the importance of helping our students financially, and we would not be able to do so without generous donations from committed partners like AT&T."
###
About Albany State University … Albany State University, in Southwest Georgia, has been a catalyst for change in the region from its inception as the Albany Bible and Manual Training Institute to its designation as a university. Founded in 1903 to educate African-American youth, the university continues to fulfill its historic mission while also serving the educational needs of an increasingly diverse student population. A progressive institution, Albany State University seeks to foster the growth and development of the region, state and nation through teaching, research, creative expression and public service. Through its collaborative efforts, the university responds to the needs of all of its constituents and offers educational programs and service to improve the quality of life in Southwest Georgia. For more information, see http://www.asurams.edu. Follow the university on Twitter at @AlbanyStateUniv and on Facebook at Albany State University Official Page.