Albany State University, Georgia Tech partner to equip students, professionals from Haiti
B.E.L. initiative promotes business,
entrepreneurship, leadership in Haiti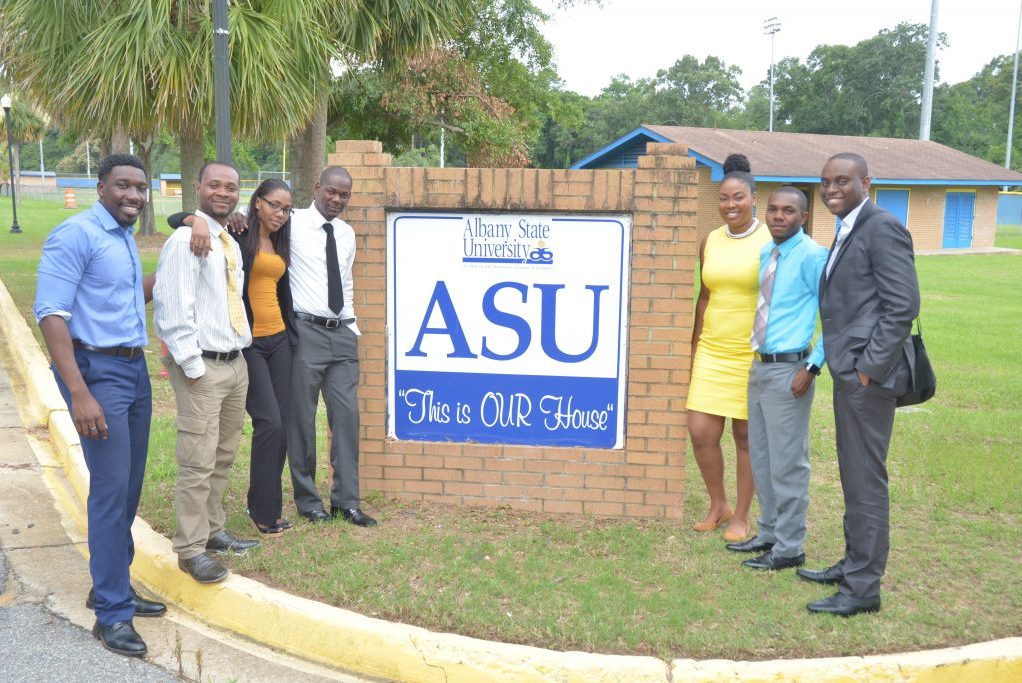 The first cohort of the B.E.L. initiative visited Albany State University in June to learn more about leadership and tourism from Albany community leaders. B.E.L. allows students, entrepreneurs and community organizers from Haiti to explore business culture in the United States. From l to r: Ronald Cetoute, ASU recruiter and B.E.L. director and co-founder; cohort members Junior Mesamours, Vraldiejge Valcin, Vernet Etiene; 2016-2017 ASU Student Government President, Maya Palmer; cohort member, Hérode Victor; and B.E.L. director and co-founder, Joseph "Max" Veve.
ALBANY, Ga. – With a passion for social programs and a background in finance and human resources, Haiti resident Vraldiejge Valcin looked for ways to make a difference in her community and the island nation. She soon discovered the B.E.L. initiative.
A partnership between the Georgia Haitian-American Chamber of Commerce, Albany State University and the Georgia Institute of Technology, the B.E.L. initiative aims to positively impact the economic state of Haiti through a greater focus on business, entrepreneurship and leadership.
"The goal of the program is really for the students to find economic solutions and to implement them," said Ronald Cetoute, co-founder and director of the program. "We wanted people to come in, learn, build their plans, polish their plans and then implement them to the best of their abilities in Haiti."
Four Haitian residents were chosen for the program's first cohort. The program began June 10 and ended June 25. Student and professionals, all of whom have received post-secondary education in varying disciplines, visited Albany State University June 12 - 16 to learn about leadership and tourism from Albany Convention & Visitor's Bureau and Leadership Albany representatives. The group traveled to Atlanta's Georgia Tech the following week to focus on renewable energy and international business.
Valcin hopes the B.E.L initiative will help guide her many dreams. She plans to develop a housing center for the elderly and a center for those returning to Haiti from other countries who may not have family to connect with or a place to live.
"That's why I signed up for B.E.L.," Valcin said, "because it will help me focus and figure out what's most important and how to make it happen. Sometimes, you have a project, you have the idea and you're willing to do it, but you don't know how to make it happen. Most people in Haiti, they're going through that."
A first generation Haitian-American, Cetoute knew when he first became a recruiter and counselor for Albany State University, five years ago, that he wanted to create a program like B.E.L. In 2016, he joined the Georgia Haitian-American Chamber of Commerce and met Joseph "Max" Veve, B.E.L. co-founder and director. The pair had no idea where to start, but with guidance from the Chamber and Nneka Osakwe, director of the ASU Office of Global Programs, the initiative progressed and garnered the support of sponsors like Microsoft.
"Luckily, with hard work and people really believing in what we're doing, especially in the Haitian community, we were able to move forward," Cetoute said.
"So far, we're learning a lot," said Junior Mesamours. "We're learning about the standards of business in the U.S., how sophisticated the research is, the quality of personnel for businesses and how people are hired. Haiti has a lot of potential that is not being used. To turn all of this potential into opportunity, you need to create businesses and jobs."
Mesamours is a member of an investment group created by students at the State University of Haiti called Invest and Progress. The group aims to create enterprises in Haiti to generate more jobs and make the lives of residents better. He is also the co-founder of "Kasav an nou," a premium cassava bread business.
"The more I am equipped and the more I am exposed to new ideas and theories, the more I will be effective in what I do in my community," Mesamours said. "I will have a better impact if I am aware of what is happening in the world."
When program participant Vernet Etienne found out about the B.E.L. initiative, he saw an opportunity to build connections and network. He is currently the Continuing Education and Training Director for Partners in Health's Zanmi Lasante program. He is also pursuing a graduate degree in education at the University of Rouen. Extensive knowledge and experience in education and healthcare allowed him to create a center in Haiti that focuses on business and healthcare.
"Opportunity isn't something that you can hold in your hand. When I found out about B.E.L., I saw connections and experiences," Etienne said.
After talking with Albany leadership and tourism leaders, Etienne said he is more prepared to continue to move his business toward a global agenda and achieve his goals.
"We now live in a global environments," Etienne said. "Even if you focus on special needs related to your own country or own area, you need to see what you're doing in a globalized view."
Cetoute and Veve hope to develop the initiative into an exchange program, so that ASU students have the opportunity to visit Haiti and experience the culture firsthand.
"ASU is committed to taking strategic steps to internationalize our curriculum," said Tau Kadhi, ASU provost and vice president for academic affairs. "This initiative and partnership is evidence of that commitment."
Cetoute said he knows B.E.L. will encourage other students from Haiti to learn more about Albany State and even to enroll.
"They will learn what they can from here and take it back to Haiti to help the world," Cetoute said. "Albany State is a part of that."
###
About ASU …
Albany State University, in Southwest Georgia, has been a catalyst for change in the region from its inception as the Albany Bible and Manual Training Institute to its designation as a university. Founded in 1903 to educate African-American youth, the university continues to fulfill its historic mission while also serving the educational needs of an increasingly diverse student population. A progressive institution, Albany State University seeks to foster the growth and development of the region, state and nation through teaching, research, creative expression and public service. Through its collaborative efforts, the university responds to the needs of all of its constituents and offers educational programs and service to improve the quality of life in Southwest Georgia. For more information see https://www.asurams.edu. Follow the university onn Twitter and Facebook at @AlbanyStateUniv.