ASU professors host technology workshop for high school teachers
Workshop promotes importance of STEM education in high school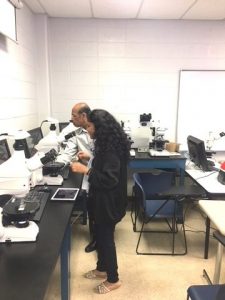 ASU professor, Zachariah Oommen (back), instructs Calhoun County teacher, Jhansi Muthyala, during a technology workshop for high school teachers.
ALBANY, Ga. –The Albany State University (ASU) department of mathematics and computer science conducted a workshop, Oct. 21, to train local teachers on how technology is used to implement science, technology, engineering and mathematics (STEM) competencies at the high school level.
High school teachers from Calhoun, Dougherty, Macon and Mitchell counties received training from Seyed Roosta, dean of the ASU College of Sciences and Technology, and faculty members Zachariah Oommen, Anilkumar Devarapu and Brandon Walker. During the session, Roosta emphasized the importance of exposing high school students to science and technology early in a child's academic life. He also encouraged teachers to share the academic opportunities available at ASU where professors can further educate students and help them reach their full potential in STEM-related fields.
Workshop topics included crime scene reconstruction through trace evidence analysis, the impact of research-based instrumentation on secondary education in STEM courses in Southwest Georgia, open-source "R" software environment for statistical computing and graphics, and teaching and research opportunities in STEM disciplines.
###
About ASU … Albany State University, in Southwest Georgia, has been a catalyst for change in the region from its inception as the Albany Bible and Manual Training Institute to its designation as a university. Founded in 1903 to educate African-American youth, the university continues to fulfill its historic mission while also serving the educational needs of an increasingly diverse student population. A progressive institution, Albany State University seeks to foster the growth and development of the region, state and nation through teaching, research, creative expression and public service. Through its collaborative efforts, the university responds to the needs of all of its constituents and offers educational programs and service to improve the quality of life in Southwest Georgia. For more information, please visit https://www.asurams.edu/. Follow the university on Twitter and Facebook @AlbanyStateUniv.