Albany State University English professor pursues doctorate at Oxford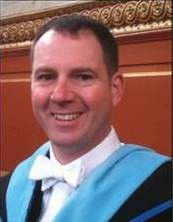 Wayne Partridge
ALBANY – Wayne Partridge, Albany State University associate professor of English in the College of Arts and Humanities, has passed his latest assessment at the University of Oxford in the United Kingdom. He is pursuing a doctorate in English Literature and Language.

Partridge, a part-time international student, was awarded a scholarship to attend Oxford. His dissertation, The Antebellum Slave Narrative and Twenty-first Century American Young Adult Fiction, explores how the legacy of slavery is imbricated in current fiction.

According to Partridge, the slave narrative is an increasingly popular genre in young adult fiction, but the legacy of the antebellum slave narratives extends beyond neo-slave narratives.

"It is clear that it is foundational to many young adult novels that, on the surface, appear to have nothing at all to do with the antebellum South or slavery," Partridge said. "The same social inequities that have given rise to the Black Lives Matter, Occupy Wall Street, and the New Black Panther movements mediate the fiction of our time, which, in turn, mediate the social construction of our present."

Partridge will defend two chapters of his dissertation in winter 2018 and his entire dissertation by the end of 2018. Partridge's scholarly and literary writing include a book chapter in "The Averted Gaze: Representations of Race and the American South in Contemporary Young Adult Fiction," the short stories "The Ride" and "Deadweight" and the poem "What will the Red Lever Do?"

His work, "Representations of American Slavery in 21st Century Young Adult Fiction," was accepted for presentation in October 2015 at the Antislavery Usable Past Workshop at Wilberforce Institute for the Study of Slavery and Emancipation.

Partridge earned a doctorate in curriculum studies from Georgia State University in Statesboro, a master's in creative writing from the University of Oxford, a master's in English language arts from Columbus State University in Columbus and a bachelor's in journalism from Auburn University, in Auburn, Alabama.
###


About ASU …
Albany State University, in Southwest Georgia, has been a catalyst for change in the region from its inception as the Albany Bible and Manual Training Institute to its designation as a university. Founded in 1903 to educate African-American youth, the university continues to fulfill its historic mission while also serving the educational needs of an increasingly diverse student population. A progressive institution, Albany State University seeks to foster the growth and development of the region, state and nation through teaching, research, creative expression and public service. Through its collaborative efforts, the university responds to the needs of all of its constituents and offers educational programs and service to improve the quality of life in Southwest Georgia. For more information see
http://www.asurams.edu
. Follow the university on Twitter at
@AlbanyStateUniv
and on Facebook at
Albany State University Official Page
.