Albany triplets celebrate success as ASU alumni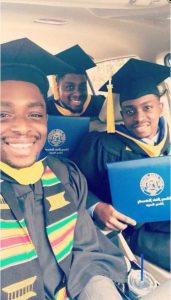 Three Albany brothers are celebrating their success as alumni of Albany State University. (Source: Pamela Jackson)
ALBANY, GA (WALB) - Three Albany brothers are celebrating their success as alumni of Albany State University. The Graper triplets were born and raised here in Albany.
Joseph, Jonathan, and Joshua Graper all majored in Computer Science. Jonathan graduated one year ago. Joseph and Joshua both crossed the stage to get their diplomas Saturday. "It was a great achievement today, so nothing more I can say, but we're happy," said Joshua Graper. Jonathan is already putting his degree to work as an information technology developer in Athens. His two brothers hope to join him and work alongside each other.
Copyright 2017 WALB. All rights reserved.