Grover Stewart selected by the Indianapolis Colts in NFL draft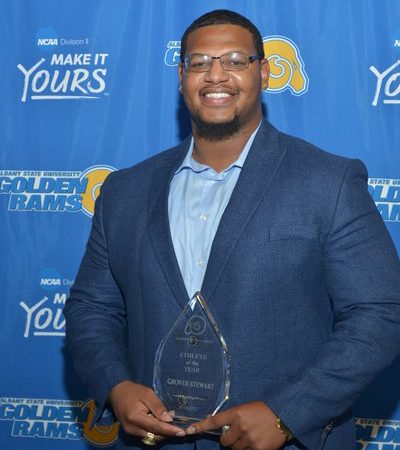 Grover Stewart
By Stan McCormick
ALBANY, Ga.- Albany State defensive tackle Grover Stewart was selected by the Indianapolis Colts in the 2017 NFL Draft. The Colts selected Stewart in the fourth round with the 144th pick.
Stewart, a 6-5, 347-lb senior from Camilla, Ga., was named to the SIAC All-Conference team for four years. He has also been a first team member all four years. This past season, Stewart recorded 37 tackles (26 solos), 12 tackles for a loss of 61 yards and 7.5 sacks for a loss of 52 yards. He also had two pass breakups.
Stewart led Albany State to the 2013 SIAC championship, the 2014 and 2015 SIAC title games and three SIAC East Division crowns. He also played in the 2016 NFL Players' Association Senior Bowl. Stewart was also a member of the Albany State men's track and field team for three years, competing in the shot put and discus. The program won the 2014 SIAC championship.
Stewart received his Bachelor's degree in Criminal Justice in December. He was named the Most Valuable Player for football and ASU Athlete of the Year as the recent Albany State sports banquet.
###
Follow Albany State University on Twitter and Facebook @AlbanyStateUniv.