Albany State University celebrated a spirit-filled Homecoming Week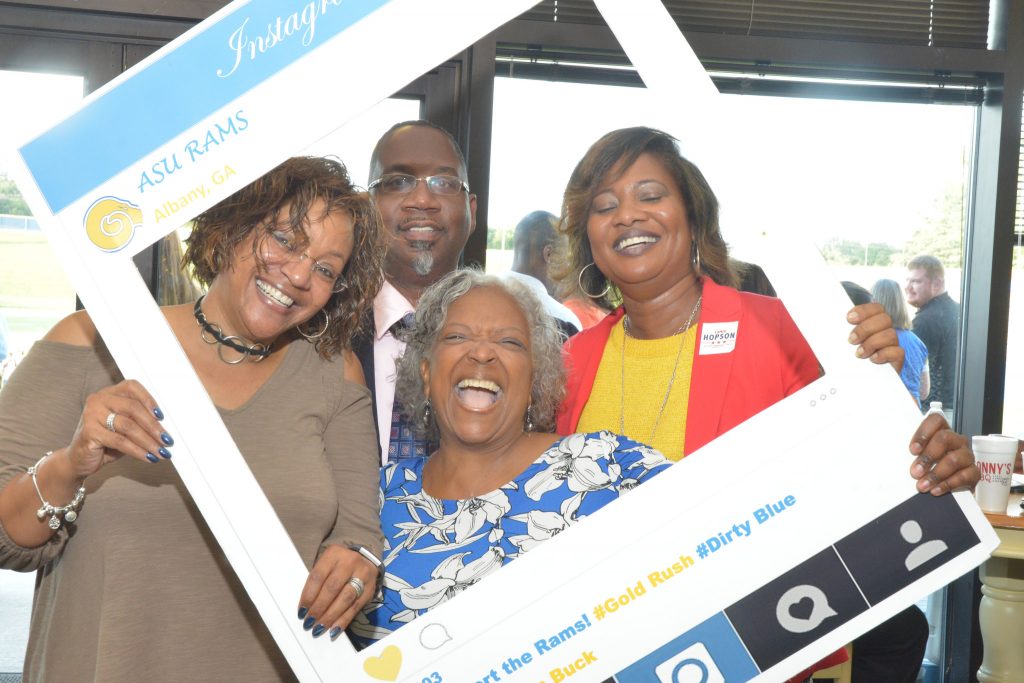 ASU alumni and community members enjoy a business after hours event during Homecoming week.
ALBANY, Ga. – Albany State University (ASU) enjoyed a successful Homecoming week celebration Oct. 8 – Oct. 14. The theme, There's No Place Like Home…coming, acknowledged the students, alumni, community members and supporters who call the institution and Albany, Ga., home. Students, alumni, and community members participated in several activities throughout the week, including health and wellness activities, faculty, staff and students events, the annual parade and of course the culminating football game.
"With the thousands of Rams supporters descending upon the city, the annual ASU Homecoming brings millions of dollars to the local economy and much appreciated support to our campus," said ASU President Art Dunning. "Of course, the continued support of ASU alumni and friends is critical to our university's future."
Topping the lineup of events was the crowning of the 2017-2018 Miss Albany State University, Wanesia Francis, and Mr. Albany State University, Santo Nina. Alumnus William R. Shepherd, longtime educator and leader of contemporary inner-city school reform, served as a homecoming convocation keynote speaker. Following his remarks, Shepherd presented his contribution as part of the Reunion Class of 1967 fundraising campaign. Alumna Shareka L. Nelson, Facebook's diversity business partner for the Global Marketing Solutions teams, also served as keynote speaker. Nelson, on behalf of the Delta Rho Chapter Spring 1997 line of Delta Sigma Theta Sorority, Inc., presented the first portion of a new endowment for the ASU Foundation during the morning ceremony. Earlier in the week, the ASU Chi Epsilon Alumni Chapter of Omega Psi Phi Fraternity, Inc. presented a $15,000 gift in honor fraternity member Albert W. "Smitty" Smith. The Reunion Class of 1967 presented a $50,000 donation towards their a $100,000 campaign. In addition, 22 alumni presented the university with more than $8,000.
Aligning with this year's theme, former ASU student-athlete and Grammy-nominated recording artist Rick Ross headlined a student appreciation concert. Ross is the owner of several Wingstop franchises and the Maybach Music Group record label. In addition to his homecoming performance, Ross participated in a panel discussion on the portrayal of women in hip hop.
ASU's oldest living alumni, Clano Stephens, 105, participated in many activities, including the annual parade in downtown Albany, where members of the 1960 Golden Rams football team served as this year's parade marshal. The team boasts an undefeated record, while posting a season-long shut out.
The week-long celebration concluded Saturday with a football game win against the Morehouse College Tigers. Head coach Gabe Giardina presented President Dunning with the winning game ball to celebrate Dunning's last homecoming before retirement.
Visit the ASU Flickr page for high resolution photos of the week's events.
###
About ASU …
Albany State University, in Southwest Georgia, has been a catalyst for change in the region from its inception as the Albany Bible and Manual Training Institute to its designation as a university. Founded in 1903 to educate African-American youth, the university continues to fulfill its historic mission while also serving the educational needs of an increasingly diverse student population. A progressive institution, Albany State University seeks to foster the growth and development of the region, state and nation through teaching, research, creative expression and public service. Through its collaborative efforts, the university responds to the needs of all of its constituents and offers educational programs and service to improve the quality of life in Southwest Georgia. For more information, please visit https://www.asurams.edu/. Follow the university on Twitter and Facebook @AlbanyStateUniv.