ASU welcomes new class at Freshmen Convocation
Class of 2021 inducted as ASU scholars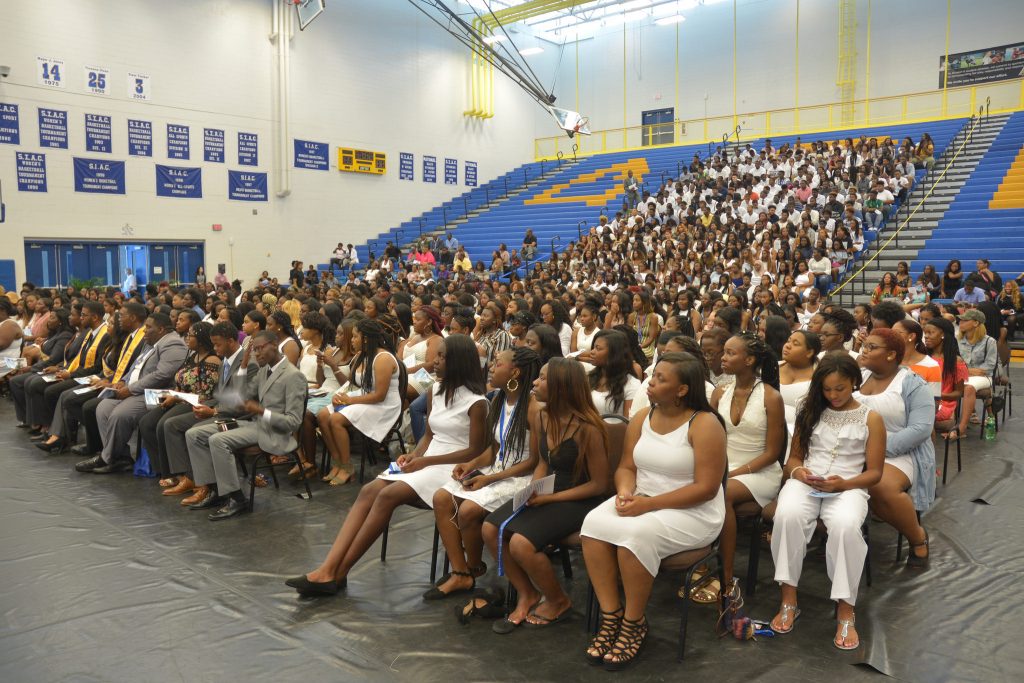 ALBANY – Albany State University's (ASU) newest students officially became Golden Rams, Friday, at the annual Freshmen Convocation. The ceremony, which was held in the Health, Physical Education, and Recreation Gymnasium, marks the students' inauguration into the university community and the beginning of the academic journey.
Adorned in white, the newest members of the ASU family received medallions from campus community members to symbolize the new beginning.
"It's a tangible representation of the transition from high school to college," said Geraldine Winns, First and Second Year Experience coordinator. "The presentation of the medallions has happened for more than 20 years."
Mr. ASU, senior Santo E. Nina, along with Miss ASU, senior Wanesia Francis, greeted the inductees, and reminded students to learn from the challenges that may arise and to never give up.
Cedric Walker, director of admissions and recruitment, soon followed and enthusiastically welcomed students with points to observe as the newest ASU ambassadors.
"Stay loyal to ASU," Walker said. "It's your duty. We're family. We're here for you. Honor each other and honor the blue and gold."
Alumni Maria Boynton ('86), served as the keynote speaker and encouraged students to enthusiastically reach for their goals, because, "dreams don't have deadlines."
"Look for people who can teach you. Build a bond with your professors," Boynton said. "Build a diverse network, and venture out. Get to know others and grow."
The ceremony concluded with students pledging to uphold the values and principles of being a Golden Ram.
To view photos of the Freshmen Convocation, please visit the official ASU Flickr page.
###
About ASU … Albany State University, in Southwest Georgia, has been a catalyst for change in the region from its inception as the Albany Bible and Manual Training Institute to its designation as a university. Founded in 1903 to educate African-American youth, the university continues to fulfill its historic mission while also serving the educational needs of an increasingly diverse student population. A progressive institution, Albany State University seeks to foster the growth and development of the region, state and nation through teaching, research, creative expression and public service. Through its collaborative efforts, the university responds to the needs of all of its constituents and offers educational programs and service to improve the quality of life in Southwest Georgia. For more information, please visit https://www.asurams.edu/ . Follow the university on Twitter and Facebook at @AlbanyStateUniv.