President Dunning delivers State of the University Address
Student success top priority for Albany State University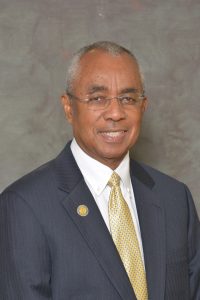 In his 2017 State of the University address, Albany State University President Art N. Dunning encouraged the university community to commit to student success and superb customer service.
In front of a sizable audience of faculty, staff, students and community members in the Billy C. Black Auditorium and online viewers watching the live stream, Dunning acknowledged the university's vibrant history and promising new future. This was the president's first State of the University address following the consolidation of Albany State University and Darton State College.
"We are now the new Albany State University, an institution with east and west campuses that promotes academic excellence and the economic vitality of Southwest Georgia," Dunning said. "Now a bigger, better institution, ASU respects and builds on the historical roots of its institutional predecessors."
The president's chief concern for the university is to increase enrollment and improve retention and graduation rates, stating that the areas are crucial to student success.
"We will begin to identify new markets to tap into for enrollment increases. We have a long road ahead of us, but the potential for student success makes the journey worthwhile," Dunning said.
Dunning discussed key successes of 2016, including the progression of the university's state-of-the-art Fine Arts Center, the $5.5 million dollar grant received by the College of Education to prepare principals and the successes of faculty and staff members at the ASU East and West campuses.
"I'm encouraging each of you to be enthusiastic messengers and tellers of the ASU story. Brag about ASU. Our faculty members are some of the best in the country," Dunning said. "This is how growth persists – when dedicated individuals embrace opportunity and encourage others to do the same."
Dunning said the university will continue to focus on what it does well, which is providing technical assistance, promoting global reach, creating a quality workforce, transferring expert business knowledge and advancing innovation and creativity. In 2015, Albany State University and Darton State College had a combined economic impact of $285 million on the Albany region.
"Colleges and universities impact the wealth and resources of communities in many ways and that's true for Albany State University," Dunning said. "As the region increases efforts to improve economic growth and stability, ASU is committed to supporting economic development. Essentially, higher education institutions are in the business of educating residents and supporting communities, and that's what matters most."
He closed his remarks by reiterating ASU's potential to be a local, national and international leader.
"We are destined for great opportunities in the future. I sincerely believe," Dunning said, "there is no better place to be at this moment in time than right here at Albany State University."
###
About ASU … Albany State University, in Southwest Georgia, has been a catalyst for change in the region from its inception as the Albany Bible and Manual Training Institute to its designation as a university. Founded in 1903 to educate African-American youth, the university continues to fulfill its historic mission while also serving the educational needs of an increasingly diverse student population. A progressive institution, Albany State University seeks to foster the growth and development of the region, state and nation through teaching, research, creative expression and public service. Through its collaborative efforts, the university responds to the needs of all of its constituents and offers educational programs and service to improve the quality of life in Southwest Georgia. For more information see http://www.asurams.edu. Follow the university on Twitter at @AlbanyStateUniv and on Facebook at Albany State University Official Page.