Albany State University hosts fall career fairs
Job fairs offers career opportunities for ASU students
By Rashai Jones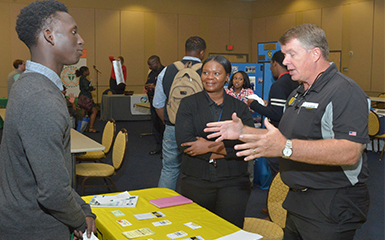 An ASU student speaks with a law enforcement representative at a fall career fair.
ALBANY, Ga -- Professionally dressed students gathered Oct. 25 and 26 to network with industry professionals at the 2017 Albany State University fall career fairs. ASU students met with over 40 organization and agency representatives.
"Students had the chance to network, give their resumes and set up interviews with potential employers," said Ali'Yah Arnold-Martin, Career Development Coordinator for the career services department at ASU.
Various employers, including GEICO, the Peace Corps, the City of Albany and iHeartMedia presented.
"Last year, students walked away with at least two offers from potential employers," Arnold-Martin said.
Student ambassador Dashawn Dennard, a student majoring in business, knows the benefits of attending the fairs. Dennard previously received a paid internship with INROADS, an international organization designed to increase ethnically diverse employees in corporate management in the U.S.
"Personally, I went to career services and was offered not only an internship, but a full time position when I graduate," Dennard said.
According to Arnold-Martin, several students have received jobs through resources offered by career services.
"Hopefully many more students will fulfill internships and job opportunities post graduation after attending our career fairs," Arnold-Martin said.
The career fair will continue to be offered annually. For more information on the career fairs and career opportunities, contact career services, which is located on the second floor of the J.C Reese building on the East Campus.
###
Follow Albany State University on Twitter and Facebook @AlbanyStateUniv.