ASU sophomore named a national Frederick Douglass Global Fellow
ASU student to study abroad for four weeks in Cape Town, South Africa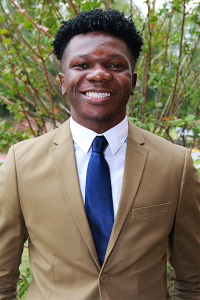 Chiagoziem "Sylvester" Agu
ALBANY – Albany State University (ASU) sophomore Chiagoziem "Sylvester" Agu has been selected as one of 10 students across the nation to participate in the prestigious Frederick Douglass Global Fellowship program.
Funded by the University of Pennsylvania's Penn Center for Minority Serving Institutions (CMSI) and the Council on International Educational Exchange (CIEE), the award will allow Agu to participate in a four-week study abroad program in Cape Town, South Africa, during the summer of 2018.
Fellows will engage in activities designed to enhance leadership and intercultural skills. They will also present and share their study abroad experiences with campus peers. Scholarship funds will cover all program fees and travel costs.
Agu, who has a 4.0 GPA and is vice president of Albany State's pre-med society, is excited about the study abroad experience and the opportunity to represent the university internationally.
"I am extremely honored and grateful to represent ASU in this esteemed fellowship," Agu said. "I want to take this opportunity to acknowledge and expresses my sincerest gratitude to all of ASU's faculty and staff who believed in me and guided me throughout the application process. I am looking forward to being a great ambassador for ASU and the experiences that this program will provide."
Agu, who is originally from Enugu State, Nigeria, aspires to become a world-class cardiologist and believes his biology studies at ASU will help lead him on the path to success.
"Sylvester is an intelligent and affable student who will certainly benefit from the experience," said Florence Lyons, director of the Velma Fudge Grant Honors Program. "The fellowship provides Sylvester and his fellow scholars the opportunity to learn the customs, lifestyle and concerns of another culture." Lyons initiated the collaboration between ASU and the Penn Center. Each year, ASU students will have the opportunity to apply for the program.
In addition to his academic achievement, Agu also volunteers with Habitat for Humanity (Organization King), the Art League, Internal Affairs for the ASU Student Government Association, the Florida-Georgia Alliance for Minority Participation (FGAMP), and ASU's Men Advocates for Leadership, Excellence and Success (M.A.L.E.S Mentoring).
The fellowship program is named in honor of Frederick Douglass, the African-American social reformer, abolitionist, orator, writer and international statesman. Frederick Douglass Global Fellows are meritorious individuals who demonstrate high academic achievement, exemplary communication skills, display the hallmarks of self-determination, exhibit characteristics of bold leadership, and have a history of service to others. Fellowships are awarded based on academic achievement and financial need.
###
Follow Albany State University on Twitter and Facebook @AlbanyStateUniv.