ASU CAAM program prepares young males for life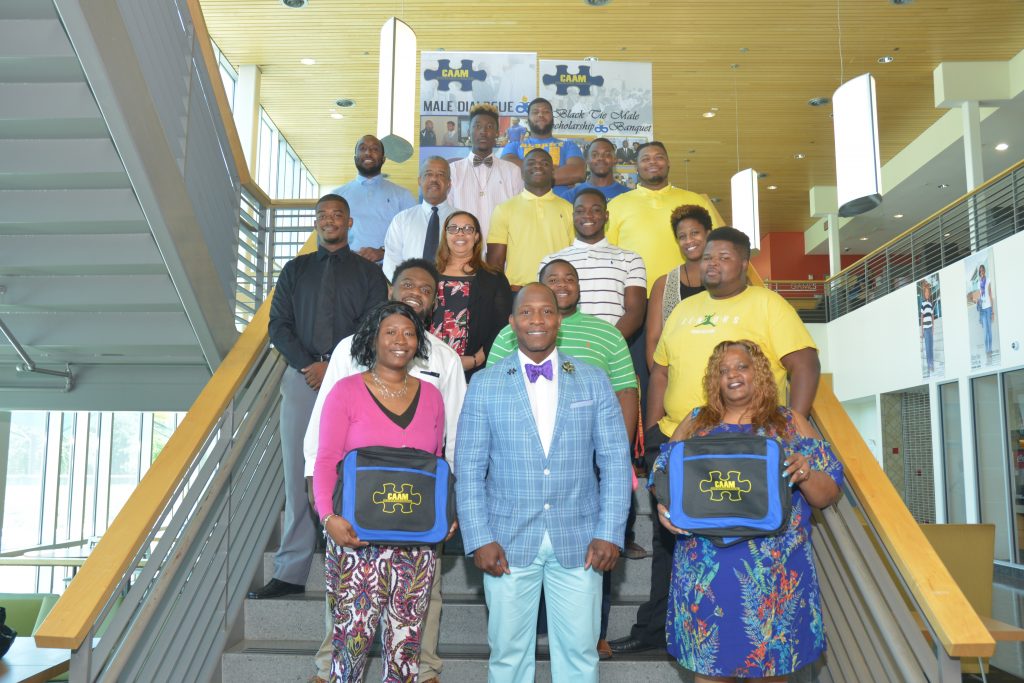 ASU CAAM program prepares young males for life
By Danyelle Gary
ALBANY, Ga. – As a freshmen at Monroe Comprehensive High School, Theodore Harold admits he preferred to stay to himself. Now a freshmen at Albany State University (ASU), his outlook has completely changed – thanks to the Center for the African American Male (CAAM).
Harold, along with 34 other young men in the Albany area, joined the first cohort of students directly engaged with ASU's CAAM from ninth to 12th grade. This first cohort brings to light the impact of the program on young black males from the beginning of their high school journey to graduation.
After graduating in May 2017, 23 students from the cohort enrolled as college freshmen and six pursued military careers. Nine students committed to ASU, and received CAAM scholarships ranging from $500 - $1,500.
"CAAM opened my mind to a lot of things that I didn't even know about to get me prepared for the real world after graduating high school," Harold said. "CAAM prepared me for life."
Since 1989, the Center for the African American Male has helped to engage young men in the Albany community by promoting high academic achievement, campus engagement, community service and leadership. Antonio Leroy, a former program participant and CAAM director for the last five years, said the program offers a unique and necessary experience to Black male youth.
"Working with these young men is not a job; it's a lifestyle for me," Leroy said. "When we surround our kids with people who care so much about their present situation, their potential, their future moving forward, and our hearts are in it, you develop a relationship."
After receiving funding from the ASU Office of Title III, Leroy and his team developed goals and objectives that aligned with the university's strategic efforts to bolster recruitment and increase retention and graduation rates. The goal: to increase enrollment of Black males at ASU.
"Students want to know you have a vested interest in their development, and we can show them their brightest future now," Leroy said.
The group soon solicited the help of the Dougherty County School System. In 2013, CAAM began hosting sessions with high school freshmen for one hour a day at Dougherty County's then four public high schools. From early on, students participated in youth summits, national conferences, dialogue sessions and more.
"We discussed what's going on in society. They would ask us about our opinions and our thoughts on situations," Harold said.
The most impactful piece, Leroy said, was when ASU students, institutional representatives and community partners attended sessions to provide high school students with valuable information, such as resume building tips and strategic plans for accomplishing goals. CAAM also hosted informational sessions for parents.
"My son has been involved with CAAM since fourth grade," Valerie Wallace said.
She reached out to Leroy after her son, Aaron Wallace Burke, began having behavioral problems.
"I've seen the change in his interpersonal skills and his mentorship with younger boys," she said. "Because of CAAM, his mindset grew to another level at a young age."
"As students are enrolling in our programs, as we're developing these leaders, we're developing guys who have a higher moral compass, guys who understand the power of reaching up for help and reaching back to help," Leroy said.
Leroy said the program works hard to not only connect with adolescents but to also ensure young college students are well prepared for life during and after ASU. The semester male dialogue segments offer students an opportunity to discuss topics in the community and the nation that have a direct impact on them. Topics like responding to authority and building personal brand through education assist students in navigating real life situations.
"We didn't reinvent anything." Leroy said. "We maximized our resources and leveraged our programs with supporters in the community."
Harold said he appreciates the experience and knowledge he gained through CAAM and plans to be a mentor in the program while attending at ASU.
"I want to give back," Harold said. "I had this opportunity so I want to give it to someone else."
###
Danyelle Gary is a writer for Albany State University.
About ASU …
Albany State University, in Southwest Georgia, has been a catalyst for change in the region from its inception as the Albany Bible and Manual Training Institute to its designation as a university. Founded in 1903 to educate African-American youth, the university continues to fulfill its historic mission while also serving the educational needs of an increasingly diverse student population. A progressive institution, Albany State University seeks to foster the growth and development of the region, state and nation through teaching, research, creative expression and public service. Through its collaborative efforts, the university responds to the needs of all of its constituents and offers educational programs and service to improve the quality of life in Southwest Georgia. For more information, please visit https://www.asurams.edu/. Follow the university on Twitter and Facebook @AlbanyStateUniv.