Albany State University Career Services hosts two-day networking session
Students network and interview with IBM representatives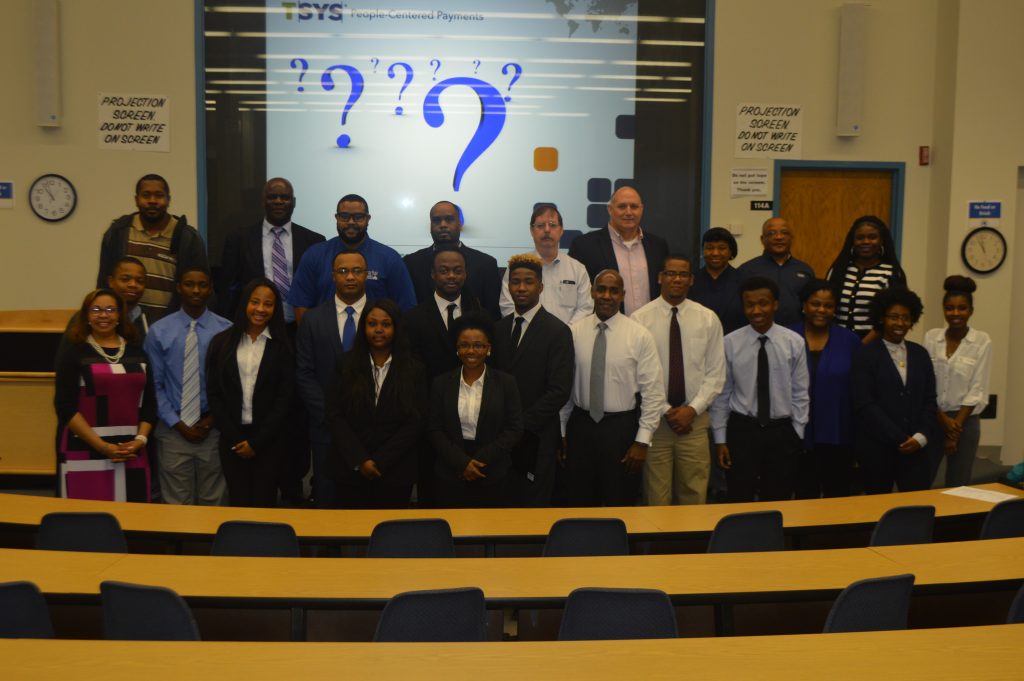 Representatives from Total Systems Services and IBM conduct interviews with students at career informational session.
ALBANY, Ga. – The Office of Career Services at Albany State University kicked off the 2017 "Alums in Action Initiative in Partnership for Student Career Success" by providing an opportunity for students to network, connect and interview with representatives from IBM on Feb. 2-3.
"We start with the end in mind," said Tracy Simmons Williams, director of the ASU Office of Career Services. "The end game for attending college is employment. Having supportive and collaborative relationships with employers is the key to enrollment management."
Williams spearheaded the event in order to provide career-focused informational sessions and networking opportunities that directly support student placements for internships and employment.
The two-day visit included on-site interviews and employer presentations. Representatives from Total Systems Services (TSYS) of Columbus, Ga., discussed trends in technology and what TSYS looks like for new hires in the technology field.
The IBM TSYS team conducted on-site interviews with ten students majoring in computer science and business information systems. Two students were selected to move forward to the next round of interviews and eight students were interviewed for summer internships with IBM. "As a business information systems major, it was more than a privilege to be able to hear about the experiences of current IBM representatives," Paris Brown said. "IBM provided me with a lot of information on how to succeed in my desired career as a system analyst. The representatives inspired me to shoot for my dreams and to believe in myself."
IBM's newest ASU hire, Keyonna West, began Jan. 17 and two more ASU Fall '16 computer science graduates are in the final stages of the interview process.
"I learned a lot of helpful information that many college students wouldn't know about the hiring process," said Jamal Qadir, computer science major. "It was a great experience. They taught me a lot about the business world."
Event special guests included ASU alumni Norman Walton ('79) and Charlene Frazier ('92); Andy Rindos, III of IBM; John Thompson, IBM retiree and president of Mobile Connections; and Cameron Seay, professor of computer science at North Carolina Agricultural and Technical State University. Seay, Rindos and Thompson discussed new grant initiatives for students interested in working in the computer technology field.
On day two of the event, Rindos spoke to a group of ASU faculty and staff and shared his expertise as IBM's Program Director for RTP Center for Advanced Studies (CAS). He funds grant programs that involve academics and global research for technology innovation.
Rindos was impressed with the partnership that the Office of Career Services and the faculty in the Department of Computer Science demonstrated to support student interests in technology through the "Initiative for Partnership in Student Career Success." Specific initiatives include Master the Mainframe participation, the Code Academy, and research interests from math and computer science professor Robert S. Owor and Zephyrinus C. Okonkwo, ASU professor of mathematics and Center for Undergraduate Research director.
###
About Albany State University …
Albany State University, in Southwest Georgia, has been a catalyst for change in the region from its inception as the Albany Bible and Manual Training Institute to its designation as a university. Founded in 1903 to educate African-American youth, the university continues to fulfill its historic mission while also serving the educational needs of an increasingly diverse student population. A progressive institution, Albany State University seeks to foster the growth and development of the region, state and nation through teaching, research, creative expression and public service. Through its collaborative efforts, the university responds to the needs of all of its constituents and offers educational programs and service to improve the quality of life in Southwest Georgia. For more information, see http://www.asurams.edu. Follow the university on Twitter at @AlbanyStateUniv and on Facebook at Albany State University Official Page.