Albany State University students receive free passports to study abroad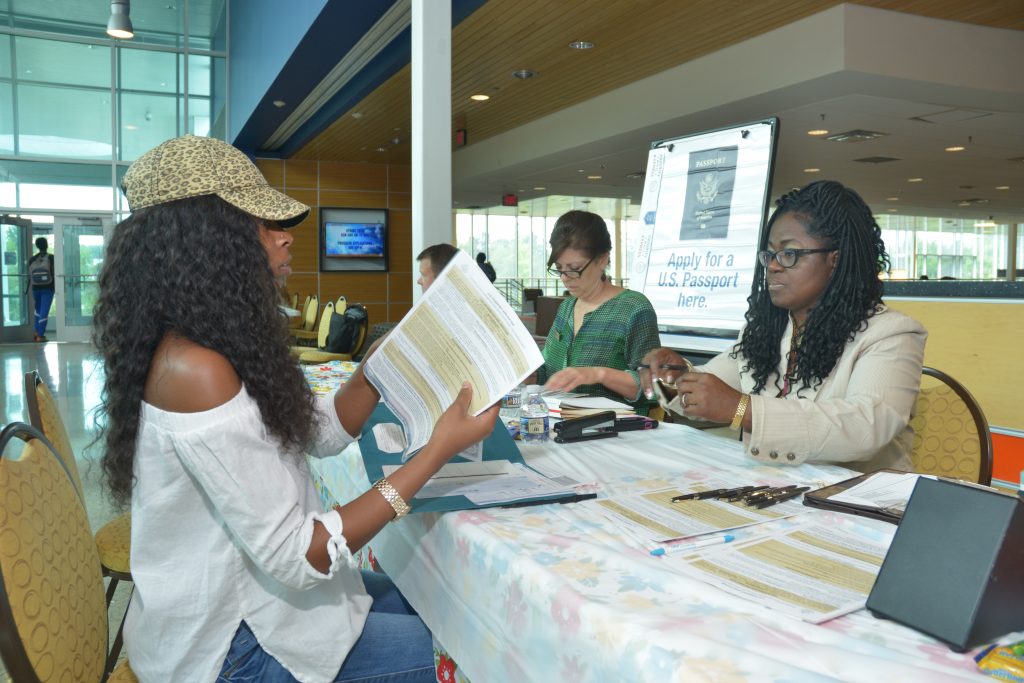 ASU student Cauntillia Pollard (left) submits documents to a U.S. Postal Service passport agent at the Passport Caravan.
ALBANY, Ga. – As part of Albany State University's (ASU) efforts to encourage global insight and unique cultural experiences, 100 ASU students received funding for free passports. The event was a collaborative effort between the University and the Council on International Educational Exchange's (CIEE) Passport Caravan.
"A traveling passport is a gateway to studying abroad," said Nneka Osakwe, director of the ASU Office of Global Programs. "The collaboration with CIEE and ASU is helping to bring the funds required to fund at least 100 students to get a free passport. We are hoping that this will motivate more students to get a passport and study abroad."
During the event, students submitted first-time U.S. passport applications and supporting documents. Each $135 application fee was paid by the CIEE and the ASU Student Affairs and Success division. Students first visited the Office of Global programs table to learn what study abroad opportunities are available. Then, students spoke to CIEE representative, Stacey Woods, to receive funding for processing. Lastly, they submitted all required materials to the visiting U.S. postal service passport agents. Passports will be delivered in the next few weeks.
To be eligible for the passport, students must be first time passport recipients and be in their freshman, sophomore or junior year.
"This opportunity was honestly a blessing," said Cauntillia Pollard, a junior who is majoring in psychology. "I know a lot of people who say they have not traveled out of the country because they do not possess a passport. Usually, the reason for not having a passport is the cost. For the school and the organization to pay for 100 passports is just awesome!"
So far this year, 36 ASU students participated in study abroad opportunities in Belize, China, Japan, France, India and Trinidad and Tobago. The CIEE is working with universities and institutions around the country to sponsor passports for 10,000 students as part of its participation in the national Generation Study Abroad initiative. The Passport Caravan seeks to aid diverse students who are underrepresented in study abroad opportunities.
Note to editors: High-resolution images of the Passport Caravan event can be found on the ASU Flickr page. (Photo credit: Reginald Christian)
###
About ASU …
Albany State University, in Southwest Georgia, has been a catalyst for change in the region from its inception as the Albany Bible and Manual Training Institute to its designation as a university. Founded in 1903 to educate African-American youth, the university continues to fulfill its historic mission while also serving the educational needs of an increasingly diverse student population. A progressive institution, Albany State University seeks to foster the growth and development of the region, state and nation through teaching, research, creative expression and public service. Through its collaborative efforts, the university responds to the needs of all of its constituents and offers educational programs and service to improve the quality of life in Southwest Georgia. For more information, please visit https://www.asurams.edu/. Follow the university on Twitter and Facebook @AlbanyStateUniv.