ASU achieves largest energy reduction of any USG institution
University leads efforts to reduce energy usage, consumption and costs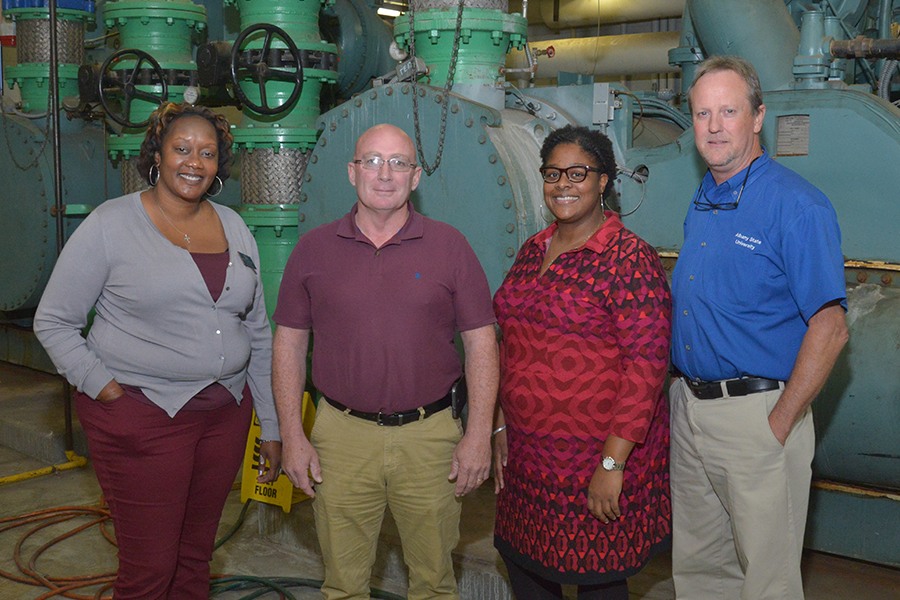 The ASU facilities management department leads energy conservation efforts for the institution. L to R: Patrina Anderson, assistant director of facilities management; Anthony Espy, mechanical trades manager; Calandra Haywood, work/quality control coordinator; and Lee Howell, director of facilities management. Photo credit: Reginald Christian
ALBANY, Ga. – Albany State University (ASU) is working hard to become an active leader in energy conservation efforts. The university currently leads University System of Georgia (USG) institutions in the largest reduction of energy consumption.
"Our goal is to be the most energy efficient university in Georgia," said Lee Howell, Director of Facilities Management at ASU. "We're making the entire university operate more efficiently."
Based on information submitted by all institutions for the Governor's Energy Challenge FY-2017, ASU has a 43 percent reduction in energy from Fiscal Year 2016 to Fiscal Year 2017. This is the largest reduction across the System for FY-17, according to Mark Kitta, director of management and operations for the USG. The closest institution in the system recorded reductions of 30 percent. This is Howell's second year of double-digit reductions.
"We manipulate how things operate," Howell said. "That's where all of the savings comes from."
Howell and his team utilize an energy management software system to better control energy related needs. The web-based system allows for access from anywhere. Howell said he uses the system at night and on the weekends to adjust controls for the temperature and lights in buildings like the HPER gymnasium.
Robert Lawson, project manager for facilities management, also noted the replacement of incandescent light bulbs for LED fixtures in most of the buildings as one of the many ways the university is making small changes to save big. LEDS have a longer life and better light, according to Lawson. This will continually cut down on maintenance costs.
With all energy reduction efforts combined, Howell anticipates a cost of approximately $1.5 million for Fiscal Year 2019. He hopes to use the savings to reinvest in more energy conservation ideas and concepts.
Howell has worked with energy conservation for many years. In 2009, he won the first award from former Governor Sonny Perdue for the Conserve Georgia campaign, an effort aimed at promoting the conservation of energy, land and water; the prevention of litter and the promotion of recycling.
Energy conservation is his passion and Howell plans to reach out to students to encourage them to develop more ideas for reducing the consumption of energy on campus.
"It's something I love doing," Howell said. "It's rewarding for me."
###
Follow Albany State University on Twitter and Facebook @AlbanyStateUniv.