Albany State University wins second place in IBM competition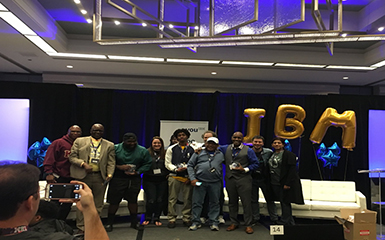 ALBANY, Ga – A team of Albany State University (ASU) computer science students won second place in the IBM Blue|Hack competition, held Oct. 19 in Atlanta. The team was among 32 to participate in the competition which required each team to initiate, create, code, pitch and present a new and creative hardware and software solution to a challenging problem.
The ASU team designed RAMBOT, a system to take videos and pictures and detect suspicious objects and persons in a large crowd based on an IBM WATSON artificial intelligence facial and object recognition algorithm. It took the students 24 hours of non-stop design, coding, debugging, and revising to implement the system.
ASU has participated in similar competitions in the past, but this is the first time the university has finished in the top three. Other universities that competed in the recent competition include North Carolina Agricultural and Technical State University, Morehouse College, Florida Agricultural and Mechanical University and Tennessee State University.
"This competition has put ASU on a whole new level," said ASU team member Aamir Greene.
Math and computer science professor Robert Owor, who led the team with professor Anilkumar Devarapu, said all of the students were thrilled with the win. Students who were interviewed for job positions after the competition, Owor said, were very excited about the opportunities that Blue|Hack opened for them.
The ASU Team consisted of computer science students, Aamir Greene, Julious King, Amanda Holloman, Patrick Whitaker, Michael Wade, Melody Collins, Nicholas Graham and Myonna Douglas.