Students discover what it takes to flourish in advertising and PR during AdPR Academy
Students spend spring break training with Turner, Coca Cola representatives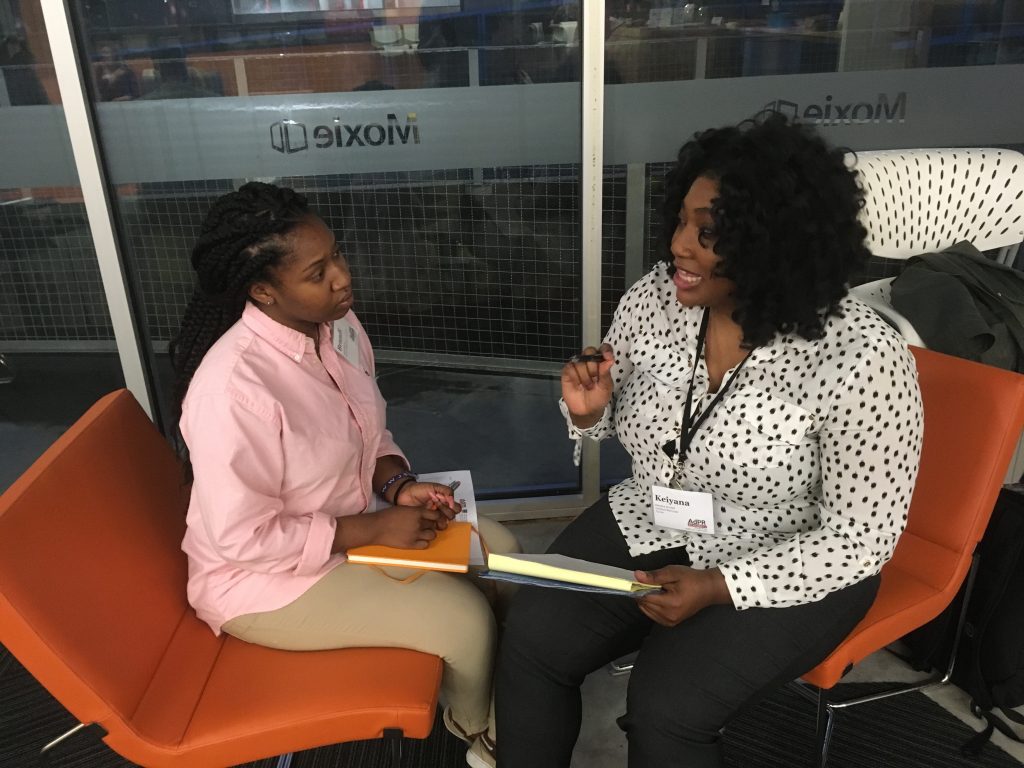 ASU student, Brandi Brown, receives feedback during a résumé critique session with Keiyana Arnold, a campus recruiter for Turner Broadcasting System.
ALBANY, Ga. – While many college students spent their spring break enjoying sunsets on the beach and sleeping in, four Albany State University students spent 12-hours a day learning what it takes to have a successful career in advertising and public relations.
The AdPR Academy, a weeklong advertising and public relations boot camp held March 6 – 11 in Atlanta, provided an opportunity for ASU students to train with leading experts and industry professionals from companies such as, Turner Broadcasting System, Home Depot, UPS, Coca-Cola, Porter Novelli, Nebo and more.
"The AdPR Academy opened my eyes to the world of possibilities in advertising and public relations," said J'Lesa Wilson, a senior, mass communication student from Miami. Wilson was recognized as one of the top student networkers.
ASU students, along with students from the University of Georgia, Emory University, Savannah State University and Florida Agricultural and Mechanical University, constituted the Academy's inaugural class. The initiative was founded by the UGA Grady College of Journalism and Mass Communication; Erwin Creates, a business consulting agency specializing in education and training and civic activities and Moxie, a leading advertising agency in the southeast region that specializes in digital advertising.
"The AdPR Academy not only provided me with knowledge from business professionals, it granted me the opportunity for hands-on experience and feedback on what the industry is looking for," said Brandi Brown, an ASU senior, marketing student.
The Chicago native was named the Academy MVP Thursday, March 9 for volunteering during an elevator pitch presentation with Tareia Williams, PR manager for Turner Sports.
"My favorite part of the Academy was developing my professional network and learning from peers who will enter the workforce soon," Brown said.
Additionally, students learned about the roles and responsibilities of an advertising agency and public relations firm and connected with recruiters about potential career opportunities.
"It was a reinvigorating opportunity for me to network, learn and experience an extended world of journalism," Wilson said.
ASU's participation in the program was coordinated through the Office of Career Services. Tracy Williams, the department's director, submitted recommendations and each ASU student chosen to attend received a $499 scholarship from the Academy.
"This allowed our students to be face-to-face with more than 23 employees in the field to learn best practices and trends and understand the level of competition that exists in these fields," Williams said. "Our students were exposed to information that produces graduates for today and the future."
Recruiters shared the necessary skill-sets and technical capabilities in demand in order to compete in the fast-pace advertising and public relations industry, including data, research and statistics, web design and coding, social media analytics and artificial intelligence (AI) basics.
"The AdPR Academy is taking monumental steps in providing an opportunity for minority students to enter advertising and public relations professions," said ASU career development coordinator, Aliyah Martin, who accompanied the students to Atlanta. "The fact that our students sacrificed their spring break to attend the AdPR Academy is commendable and sends a positive message that ASU students are taking initiative to prepare for their future. The Office of Career Services is here to help them every step of the way."
ASU has been invited to participate in the program again next year.
###
About Albany State University …
Albany State University, in Southwest Georgia, has been a catalyst for change in the region from its inception as the Albany Bible and Manual Training Institute to its designation as a university. Founded in 1903 to educate African-American youth, the university continues to fulfill its historic mission while also serving the educational needs of an increasingly diverse student population. A progressive institution, Albany State University seeks to foster the growth and development of the region, state and nation through teaching, research, creative expression and public service. Through its collaborative efforts, the university responds to the needs of all of its constituents and offers educational programs and service to improve the quality of life in Southwest Georgia. For more information, see http://www.asurams.edu. Follow the university on Twitter at @AlbanyStateUniv and on Facebook at Albany State University Official Page.