Albany State police officers raise awareness of domestic violence through no-shave initiative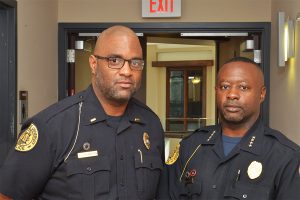 Albany State University Police Officers Lt. Brian Covington and Chief Fields don a beard and goatee the no-shave December fundraising initiative.
ALBANY – Officers from the Albany State University Police Department will don a hairier look in December as they participate in a no-shave initiative to raise public awareness of domestic violence and support victims and survivors.
For the month of December, 19 male officers will put their razors aside and donate $1 a day to Liberty House of Albany, a nonprofit organization dedicated to providing services for victims of domestic violence in Southwest Georgia and their children. The no-shave initiative is expected to raise more than $500 to help those in need of Liberty House resources during the holiday season.
"We want to be that group that says we stand with them and we stand against what they went through," said Lt. Brian Covington, the initiative organizer. "As first responders in law enforcement, we go into domestic violence situations. Sometimes we have to transport them to Liberty House. I wanted victims and survivors to remember that they're not forgotten about on Christmas."
Participating officers will grow a beard or goatee and ensure it is neatly maintained for a professional environment. Those who are not participating are still encouraged to provide a donation of any amount. All funds will be presented to Liberty House at the end of the month.
"I believe, when men stand up and fight against injustice, the whole community rallies around it and makes the change," Covington said. "We want to be an impact."
###
Follow Albany State University on Twitter and Facebook @AlbanyStateUniv.