Albany State University to Host 25th Annual Southeast Model African Union Conference
Albany State University (ASU) will host the 25th Annual Southeast Model African Union (SEMAU) Conference, in collaboration with the University System African Council (USAC), on November 9 -12, 2022.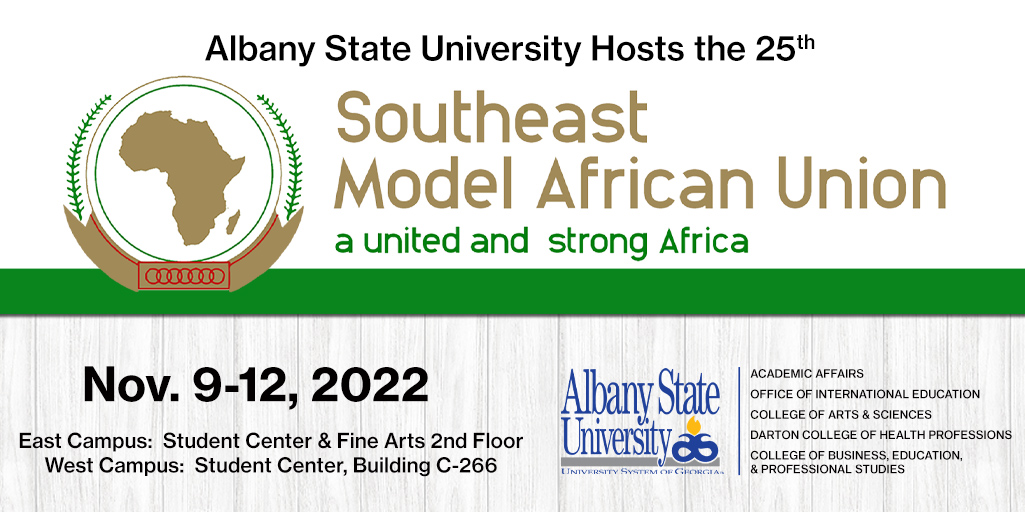 This will be the first time ASU is hosting the prestigious conference. College students will travel from all over the southeast to participate in the mock trial experience as an exercise in international diplomacy. The students will simulate the activities of the African Union (AU) Heads of State representing 55 countries of Africa at the AU headquarters in Addis Ababa, Ethiopia. While acting as delegates, students will debate issues that affect African nations.
"Albany State University is honored to host this prestigious conference. This conference has immense benefits for our students, faculty, and staff, who will receive opportunities for mentoring, training, and educational development," said President Marion Ross Fedrick. "Part of preparing students for the future is expanding their global perspective by training them to be engaged, informed, and active citizens who can compete in a global society. Our participation in the SEMAU conference is just one of the ways we are able to achieve this goal."
The AU Ambassador to the United States, Her Excellency, Dr. Hilda Suka Mafudze, will be the keynote speaker. Dr. Amina Smaila, Consul General at Consulate General of the Federal Republic of Nigeria, will serve on the Ambassadorial Panel. Dr. Akere Muna, member of the AU High-Level Panel on Illicit Financial Flows, United Nations Development Programme (UNDP) Expert on Anti-Corruption, and former Vice-chair of Transparency International, has also been invited to serve on the panel. Additionally, the three Consulates in Atlanta of Liberia, Nigeria, and Sierra Leone have received an invitation to attend.
The event is a real-world simulation based on the national model of the African Union. Students participate in committees for democracy, social matters, governance, human rights, peace and security, economic issues, Pan-Africanism, and continental unity.
Before attending the conference, the students are mentored and trained for months by their faculty advisors to learn various details about their chosen countries. They also learn the AU procedures, language, and formalities practiced at Addis Ababa. At the conference, each institution comes prepared with their students to deliberate and debate on issues and come up with resolutions. The resolutions will be modified throughout each debate, and on the event's final day, the acting head of state will vote to adopt or reject the final resolution.
Dr. Nneka Nora Osakwe, English Professor and Special Assistant to the Provost for Internationalization and Global Engagement, serves as the SEMAU 2022 conference Director and Committee Chair. "The academic exercise advances excellence by enriching students' global learning in understanding African affairs and enhancing their diplomatic, leadership, and conflict resolution skills through hands-on experiential learning, which also prepares them for future jobs in the diplomatic field," she said.
The University is excited to welcome African diplomats, ambassadors, team advisors, students, and approximately 200 participants to Albany. After the event, visiting guests will be treated to a tour of the city on the final day.
The institutions expected to participate are Albany State University, Middle Georgia State University, Georgia Southern University, Kennesaw State University, Fort Valley State University, University of Georgia, Georgia State University, Columbus State University, Armstrong State University, Savannah State University, Georgia Southern University, Mercer University, Augusta State University, Clayton State University, as well as other state and private institutions.
Additional information can be found at www.asurams.edu/SEMAU22.