Commencement Spotlight: LeFaren Donaldson
Commencement Spotlight: LeFaren Donaldson, Bachelor of Science in Biology

Future Plans: Master of Science in Biomedical Sciences, Philadelphia College of Osteopathic Medicine
LeFaren Donaldson, a Tallahassee, Florida native, will graduate on May 7 with a Bachelor of Science degree in Biology. A student-athlete, she is a member of the women's soccer team and the Peach Belt All-American Team. She is also a member of the Pre-Alumni Council, Demonstrating Individual Values Amongst Sisters (DIVAS) Mentoring, Student Athletic Advisory Council (SAAC), and Alpha Kappa Mu Honor Society. She served as secretary for the Minority Association Pre-Medical Students, and as Commuter Students Senator for the Student Government Association (SGA). She is passionate about the community and has over 100 volunteer hours at the Second Harvest Food Bank in Tallahassee, Florida, and DIVAS Mentoring events. A scholar committed to academic excellence, she has made the dean's list every semester, and has received four achievement awards. She has been accepted into the Master of Science in Biomedical Sciences program at Philadelphia College of Osteopathic Medicine.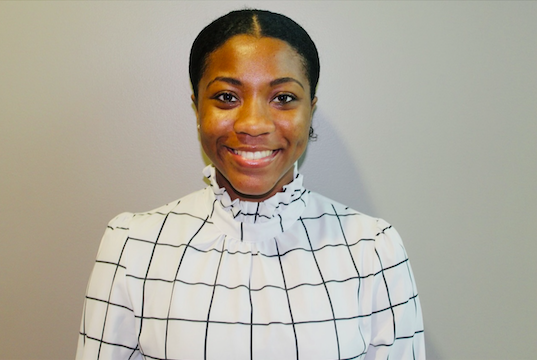 What motivated you to learn more about your field?
I want to pursue my dream of becoming a doctor. I believe the field of Biomedical Sciences will help me achieve that dream.

Why did you choose ASU?
I chose Albany State University because I felt this was the best fit for me at that time, plus I had the opportunity to play collegiate soccer on a scholarship close to home.

How did ASU prepare you to succeed after matriculation?
Throughout all my exams and presentations, and projects Albany State University has helped me prepare for the next level of my education. I believe I will be successful in my next years of education because of Albany State University.
What do you love most about your chosen profession?
What I love about my chosen profession is that I will have the opportunity to learn something new every day.

Who at ASU has made the biggest impact on you and who do you consider to be a role model at ASU?
My professor, Dr. John Williams who eventually became my advisor, has guided me in the right path and helped me prepare for the next level of graduate school.
I would consider Dr. Julie Pettway as my role model at Albany State University. Her demonstration of leadership and character has taught me different skill sets on how to be a good leader and be successful.
What advice would you give to other ASU students?
Start out strong in academics as a freshman and focus while enjoying the college experience. Stay prayed up!
What would you say to high school students about choosing ASU to further their education?
Albany State University has many organizations to get involved in. Once you find out what you want to do, you can develop and navigate throughout the school using faculty to help guide you on your journey to be successful. Make sure you utilize the Office of Career Services. Go Rams!