Albany State University Foundation to host Signature Scholarship Gala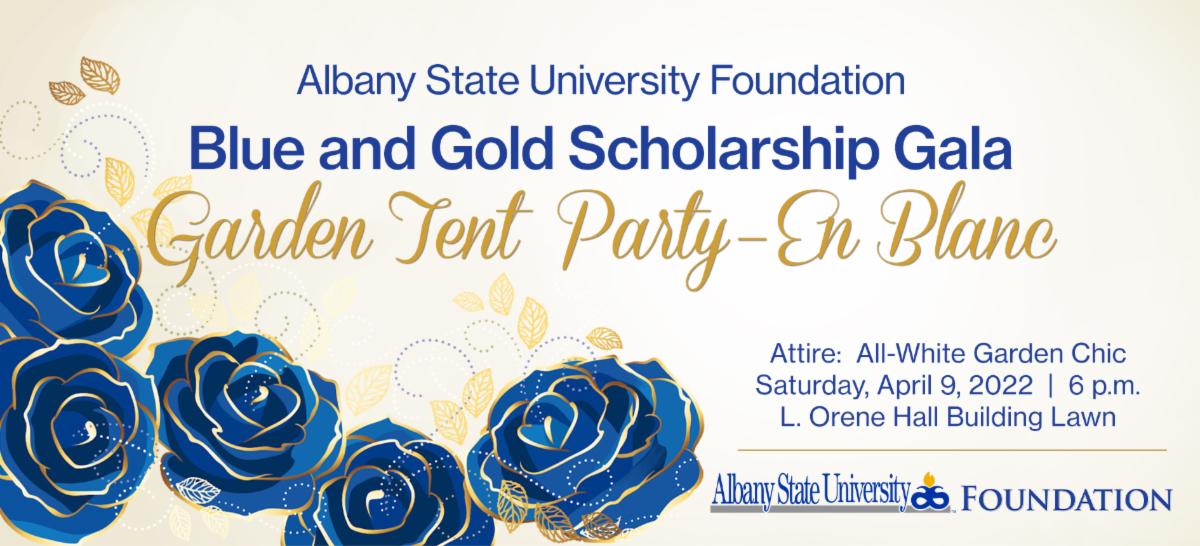 The Albany State University (ASU) Blue and Gold Scholarship Gala will be held at the L. Orene Hall Building Lawn located on East Campus Saturday, April 9 at 6 p.m. Proceeds from the event will help provide a variety of scholarships for admitted students.
"The Blue and Gold Scholarship Gala is an annual event that raises scholarship funds to support ASU students. In the 2020-2021 fiscal year, the ASU Foundation saw its third year of consecutive growth. This resulted in raising $1.1 million and awarding $256,976 in scholarships to 409 students. We hope to see many community members come out to support this spectacular event," said ASU President Marion Ross Fedrick.
The theme is Garden Tent Party – En Blanc. Guests should arrive in white-inspired garden chic attire. The event will take place during the week-long celebration of Founder's Day.
"This year's decor will be distinct from our previous Gala in 2019. The ASU Foundation team and volunteer committee are working tirelessly to orchestrate an event that is sure to impress. This is a special event you will not want to miss, and it is all for a great cause," said ASU Foundation Executive Director, A.L. Fleming.
"The Blue and Gold Scholarship Gala promises to be a grand event filled with fun, fellowship, and entertainment. The best thing about this grand occasion is that it's for a worthy cause. The fundraiser provides much needed funding for both need and merit based scholarships for our students. And as always, Go Rams," said Gregory Hylick, ASU Foundation Board Chairman.
Tax-deductible tickets to the event are $150. Guests will enjoy dinner, entertainment, and dancing. The deadline to purchase tickets is Friday, March 25.
Tickets can be purchased at www.asurams.edu/gala and sponsorships can be secured at www.asurams.edu/galasponsor.
For more information, please contact the ASU Foundation at 229-500-3286 or advancement@asurams.edu.