Albany State University Student-Athlete Named First Team All-American
The Albany State University (ASU) Women's Track and Field student-athlete, Sydney Blackburn, earned First Team All-American honors in the 2022 NCAA Division II Outdoor Track and Field Championships.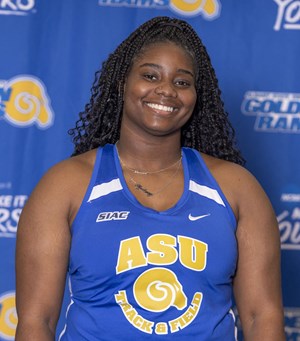 Ms. Blackburn successfully finished third in the Discus event at the championships meet that was held on May 26-28 at the Grand Valley State & Track Field Stadium in Allendale, Michigan.
ASU's Athletic Director, Tony Duckworth, stated "Our student-athletes have tirelessly trained for a successful season, and we are proud of their accomplishments thus far. Our institution breeds excellence and we will continue to display nothing less throughout our athletic season."
For more on the story click here. To stay up to date with the latest news on the Golden Rams visit www.asugoldenrams.com.