Bonneau earns Preseason All-SIAC Offensive Player of the Year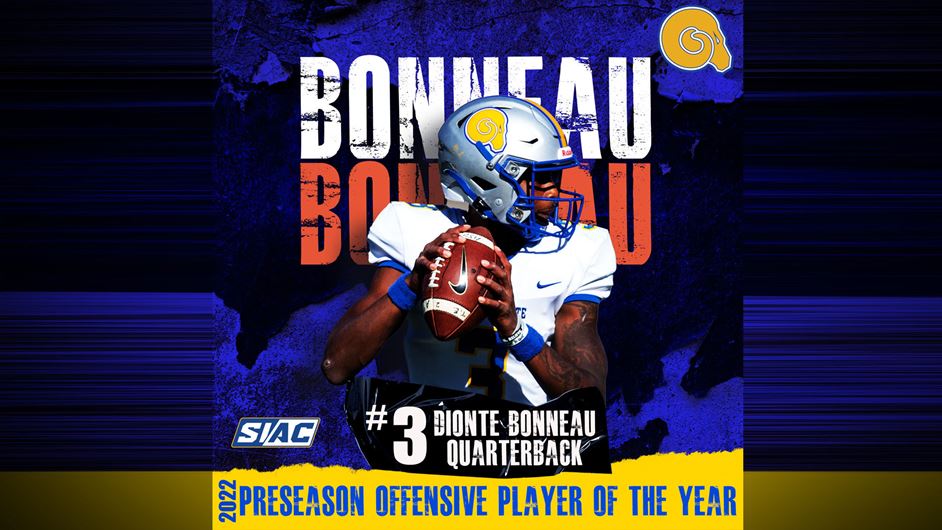 Albany State University junior quarterback Dionte Bonneau was selected as the SIAC preseason Offensive Player of the Year. In the annual SIAC Media Day in Atlanta, GA, The entire 2022 squad was announced as well as the predicted order of finish. The Golden Rams were selected to repeat as SIAC eastern division champions. In 2021, the Golden Rams went undefeated in SIAC play en route to a 9-1 regular season, winning the conference championship in a dominating 33-0 romp over the Bears of Miles College, avenging two consecutive seasons of losses to Miles in the SIAC Championship game.

Bonneau finished the season with 1,763 yards passing. He completed 117 of 223 passes for a 52.5% average. In 11 games, Bonneau had 136 rushing yards. He connected with 18 different receivers in 2021.

Joining Bonneau on the All-SIAC first team was 2021 SIAC Defensive Player of the Year Stephan Pierre. Also on the first team are Katray Pringle (OL), Tyree Taylor (TE), and Malik Barnes (DL). On the second team, the Golden Rams have eight players. Jajuan Gordon (OL), Josh Simon (OL), Joe'Vontae Shorter (WR), Kam Ward (RB), Anthony Harvey (DL), Josh Hill (DL), James Hawkins (DB) and Brandarious Rawlings (DB) all made the squad.

This year's Southern Intercollegiate Athletic Conference (SIAC) preseason team features 29 returning players from the 2021 SIAC Football All-Conference team, led by Bonneau alongside Andrew Farmer, Lane College, who was tabbed as the 2022 Preseason Defensive Player of the Year announced Wednesday during the league's media day presented by Cricket Wireless in Atlanta, Ga.

All nominations and votes are submitted by head coaches and sports information directors.

Preseason Offensive Player of the Year
Dionte Bonneau, Albany State
Quarterback

Bonneau, the junior quarterback, was the starting quarterback for the Golden Rams and was tabbed as this year's Preseason Offensive Player of the Year after helping the Golden Rams to a 10-2 (7-0 in the SIAC). The Atlanta, Ga. native led the Golden Rams to an appearance in the 2021 NCAA Division II Playoffs. Bonneau finished the season with 1,896 passing yards and 19 passing touchdowns. Bonneau had three games in which he passed for at least three touchdowns. Bonneau will be vital to the Golden Rams' offense as they seek back-to-back SIAC Championships in 2022.

Read ASU Athletics' full story here.