Albany State University Offers Affordable Education at Competitive Tuition Rate
By: Rachel Lawrence
Albany State University (ASU) students enrolled in the fall 2022 semester will receive lower tuition and fees. The University System of Georgia (USG) Board of Regents (BOR) recently voted to eliminate the Special Institution Fee and to not raise tuition rates at most institutions for the 2022-2023 academic year. This decision was made at the April 12 Board of Regents meeting which was held on the ASU campus.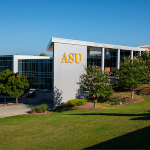 As a result, ASU tuition costs remain the same for the third year in a row. The total cost for non-residential students seeking a bachelor's degree is $3,250. This is a decrease of 9.5% for non-residential, and 5.8% for residential students from 2021.
"A college education is a significant investment for our students and their families, and in turn we are invested in their academic excellence and student success," said ASU President Marion Ross Fedrick.
In addition, the University is waiving the requirement for SAT and ACT test scores for incoming freshmen applying to bachelor's degree programs for fall 2022 semester. They must have a high school GPA of 3.2 or higher for test scores to be waived.
"Waiving the test scores will open the door to allow additional students an opportunity for the education they deserve. We hope this change will encourage students interested in furthering their education to apply for admission," said Fedrick.
The application fee for incoming students applying for undergraduate admissions for the fall 2022 semester was also waived during March and April. "Removing the application fee encourages prospective students to choose Albany State University when applying for college. This is one small step in showing prospective students how committed we are to their academic excellence and student success," said Kenyatta Johnson, vice president of enrollment management and student success.
During the spring 2022 semester, ASU enrolled 5,856 students, including 5,641 students seeking degrees, and 215 dual enrollment and transient students. This included 5,349 students from 144 of Georgia's 159 counties, 487 from 37 other states, and students from 7 countries outside the U.S. The enrollment breakdown consists of .43% of students in certificate programs, 40% in associate programs, 51% in bachelor programs, and 9% in graduate programs, including 9 students in the educational specialist degree program.
The deadline to apply for fall admissions is June 1. Classes begin August 15.