Alumni Spotlight: Felicia Simpson
Albany State University (ASU) alumna, magna cum laude honor graduate, and Albany, Georgia native Felicia Simpson graduated in 2010 with a bachelor's degree in mathematics. She currently serves as an Associate Professor of Statistics at Winston-Salem State University in North Carolina. Most recently, she was interviewed by the Journal of Statistics and Data Science Education.
She earned a Ph.D. in Biostatistics from Florida State University, and worked as a Mathematical Statistician at the Center for Drug Evaluation and Research at the Food and Drug Administration (FDA), Division of Biometrics IV.
While at ASU, she was a member of the Mathematics and Computer Science Club, Association for Computing Machinery's Student Chapter, and Alpha Kappa Mu Honor Society, and in 2010 was initiated into the Delta Rho Chapter of Delta Sigma Theta Sorority, Inc. She also participated in the Historically Black Colleges and Universities – Undergraduate Program (HBCU-UP). She made the dean's list every year she attended ASU. As the highest-ranking mathematics major she received the 2019 Dean's Award.
Dr. Simpson is an active member of the American Statistical Association (ASA) and Eastern North American Region of the International Biometric Society (ENAR).
You were recently interviewed for the Journal of Statistics and Data Science Education. How was the experience and what was the interview about?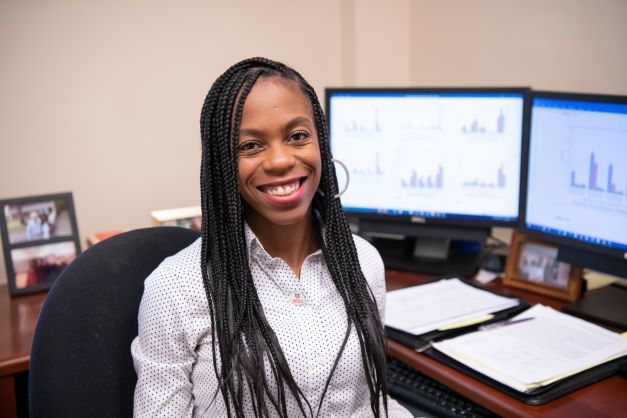 It was truly an honor to be interviewed for the Journal of Statistics and Data Science. I was very grateful for the opportunity to share my thoughts, experiences, and my journey to a career as an educator in statistics. The interview tells the story of my journey to a career in statistics from my high school years to my current career. The interview also speaks to teaching statistics at an HBCU and highlights the importance of HBCUs in general. It was a wonderful experience. It really gave me an opportunity to be completely transparent about my journey. I hope my interview inspires students and young professionals to never give up on their dream and be confident in who you are.
What do you like best about working in higher education?
The thing I love most about working in higher education are the students. I strongly believe that undergraduate education lays the foundation for a student's future career success and personal fulfillment. Teaching undergraduate students is very fulfilling and it is a two-way learning experience. It is a wonderful feeling to watch students I have taught over the years grow in their abilities to analyze and interpret statistical data and really become confident in themselves. I take extreme pride in helping students reach professional levels they never imagined.
Who made the biggest impact on you while at Albany State University?
The person who made the biggest impact on me while I was at Albany State University is Dr. Zephyrinus Okonkwo. He is one of the reasons I got into the field of biostatistics. When I originally started my undergraduate program at ASU, my major was computer science with a minor in mathematics. During my freshman year, I took a mathematics course taught by Dr. Okonkwo. He made learning mathematics so intriguing and fun. His joy and excitement for mathematics helped me realize my own passion for math. After that semester, I changed my major to mathematics.
Dr. Okonkwo became my research advisor and exposed me to the world of statistical research. Under his mentorship, I had the opportunity to present my statistical research at symposiums and conferences. In addition, he made sure I had an internship opportunity each summer. He was extremely encouraging and truly invested in my future. Entering into my senior year, I was not sure if I wanted to look for a career in mathematics after graduating or try to pursue a graduate degree. He encouraged me to purse a graduate degree in Biostatistics and assisted me with my graduate school applications. I am very grateful for the role he played in helping me find the right career path. He remains my mentor today.
It was also very impactful to have female African-American faculty in my department at ASU: Dr. Rhonda Porter and Professors Connie Leggett and Gwendolyn Campbell-Williams. These three women were always very encouraging and supportive of me as well as of all the young women in our department. It was rare for me to see female African-American professors in mathematics and computer science. It was so inspiring to have professors that looked like me and understood what it was like to be a female in this field. Each of them always made time to meet with me about academics and my personal life.
What are obstacles you've had to overcome to progress in your field?
Some obstacles I had to overcome to progress in my field are overcoming imposter syndrome and not letting setbacks stop me from achieving my goals. The field of statistic and biostatistics still lacks diversity. At the graduate school level, it was definitely an adjustment coming from an undergraduate university where everyone looked like me, to attending a graduate program at Florida State University (FSU) where very few people looked like me. I really questioned whether I belonged there and wondered whether I was smart enough to be there. I really had to become confident in my capabilities and myself. This confidence, along with the support of faculty and friends, really helped me fully embrace my graduate school experience.
In reference to setbacks, while pursing my PhD in Biostatistics, I actually failed on my first attempt at the PhD qualifying exam. It was very devastating. I actually left the graduate program with my Master's degree and began working in the field. I truly wanted to finish my PhD, so I remained enrolled at FSU and continued to study for the qualifying exam. This time, I studied extremely hard. I used any downtime at work to study, and I spent my entire Saturdays at Starbucks studying. I took the exam a year later and passed. I reenrolled in FSU as a full-time student and completed the PhD program in Biostatistics. If I had given up during that first failure, I would not be where I am today.
I still experience obstacles in my career as a statistician even today. As an African-American woman in the field of statistics, it can be hard being the only person of color in the room, especially when some people seem to not value my thoughts and opinions. I have learned to continue to speak up and remain confident in who I am in order to be the change for the next generation.
What advice would you give to students to pursue their dreams?
I think the most important advice I can give to students is to never give up. Continue striving for your goals in the midst of difficult times or setbacks. Everyone's path is not linear and you can't compare your journey with someone else's. I always tell my students "it's like seeing straight with crooked lines". It is important to keep your vision and finish the journey to your goal even if the path you take has a few curves and bumps along the way.
Additional advice I would give to students is to identify a mentor (or mentors). I think having a mentor is very important because they have experienced what you are going through and are able to provide you with guidance, motivation, and emotional support. Students should also take advantage of opportunities such as interning at various organization to understand the career paths they can take. Networking is also extremely important. Therefore, it is important for students to join professional organizations. I feel that all of these things will help students once they are ready to enter the job market.
To current students getting ready to enter the job market, my advice to you is to research and understand all the possible paths you can take with your degree and seek a position that allows you to use your skills and pursue your passion.
What is something you are passionate about?
There remains a serious lack of under-represented minority representation in the statistical sciences. I am very passionate about exposing under-represented students to the fields of statistics and biostatistics. This is the reason why I wanted to be a professor at an HBCU. Many high school and college students I meet often have a fear of statistics and mathematics. I spend a lot of time during the academic year and summer speaking to high school and college students around the world about opportunities in mathematics and statistics. I try to spark students' interest in statistics by sharing my own journey to a career in statistics and by making my courses engaging and fun. My goal is to expose these students to all of the career opportunities in the statistical sciences and change their perception of statistics. I am very active in initiatives created by professional statistical organizations that promote diversity in the field. I am member of the committee on minorities in statistics from the ASA and served as co-chair for the ENAR Fostering Diversity in Biostatistics Workshop.