Albany State University New Program to Help Freshmen Succeed
Albany State University (ASU) is launching a new program that focuses on helping incoming students succeed. The program, University College, will serve as a national model for how to effectively prepare first-year students for university-level expectations, bridge the gap between first-year students' natural interests and academic success, and promote on-time graduation in every major.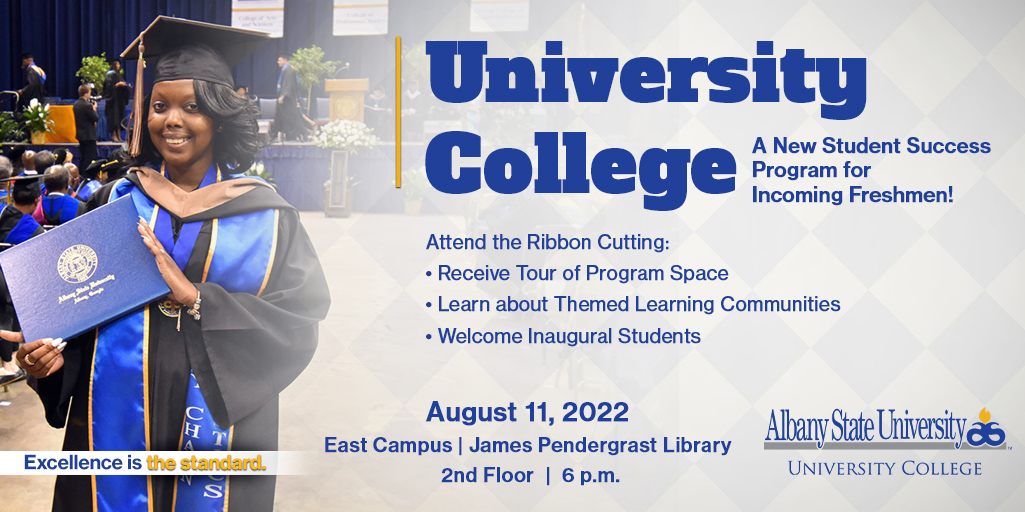 "Providing a transformative first-year experience is key to supporting an effective transition to higher education for freshmen. This additional support will lead to an increase in retention rates, as students will learn to balance student life, and prepare for the academic rigor of upper-level courses," said ASU President Marion Ross Fedrick.
The students will participate in engaging and innovative learning communities where they will spend time exploring academic-related events and student engagement activities. In the learning communities, a cohort of students will enroll in three linked courses, centered around a specific theme. These courses are not an extra requirement but are required core courses or pre-requisites for a major. The Learning Communities include Future Nurses, Future Teachers, Speaking the Language of Criminal Justice, Songs in the Key of American History, Men Achieving Purpose, The STEM Community, The American Dream, and Embracing Global Commerce.
While the faculty to student ratio at ASU is 1 to 20, University College participants will attend classes on an even smaller scale. They will have dedicated advisors, as well as study abroad, internship, and on-campus work opportunities.
Students will enter their sophomore year as self-regulated learners committed to learning and invested in their academic success. They will have selected appropriate academic, networking and career opportunities, and will recognize the importance of self-care as a critical component of student success.
"University College is a place where first-year students will learn, grow, and build community. The program will touch every first-year student and provide both academic and non-academic support," said Assistant Vice President of Academic Affairs, Dr. Tiffany Pogue.
University College is founded on three principles to create and deliver best practices that foster the education, career development and student success of first year students; collaboration, connection, and engagement.
The community is invited to the University College Launch and Ribbon Cutting on Thursday, August 11 from 6 to 8:30 p.m. The event will take place on the ASU East Campus, on the second floor of the James Pendergrast Library. Activities will include a tour of the program space, an introduction of the themed learning communities, and a welcome for the inaugural University College class.
Additional information can be found at www.asurams.edu/universitycollege.