Student Spotlight: Nia Williams
Nia Williams, a Jackson, Mississippi native, is a sophomore computer science major at Albany State University (ASU). This summer, she is completing an internship with CrowdStrike, a cybersecurity technology company. She also participated in the Battle of the Brains, an academic competition funded by the National Football League. The competition was held in Austin, Texas. Ms. Williams received a $5,000 scholarship from Home Depot.
At ASU Williams serves as the Vice President of the Association of Computer Machinery (ACM) and as secretary of the International Business Machines Corporation (IBM) Early Professionals. Additionally, she is a Thurgood Marshall College Fund (TMCF) Leadership Institute Scholar and scholarship recipient.
Her current research includes "How Artificial Intelligence and Machine Learning will Affect Humans in the Next 30 years" with Professor of Mathematics, Computer Science, and Physics Dr. Robert Owor, and "Detecting Craters on Mars" with the NASA Minds Research Team at ASU.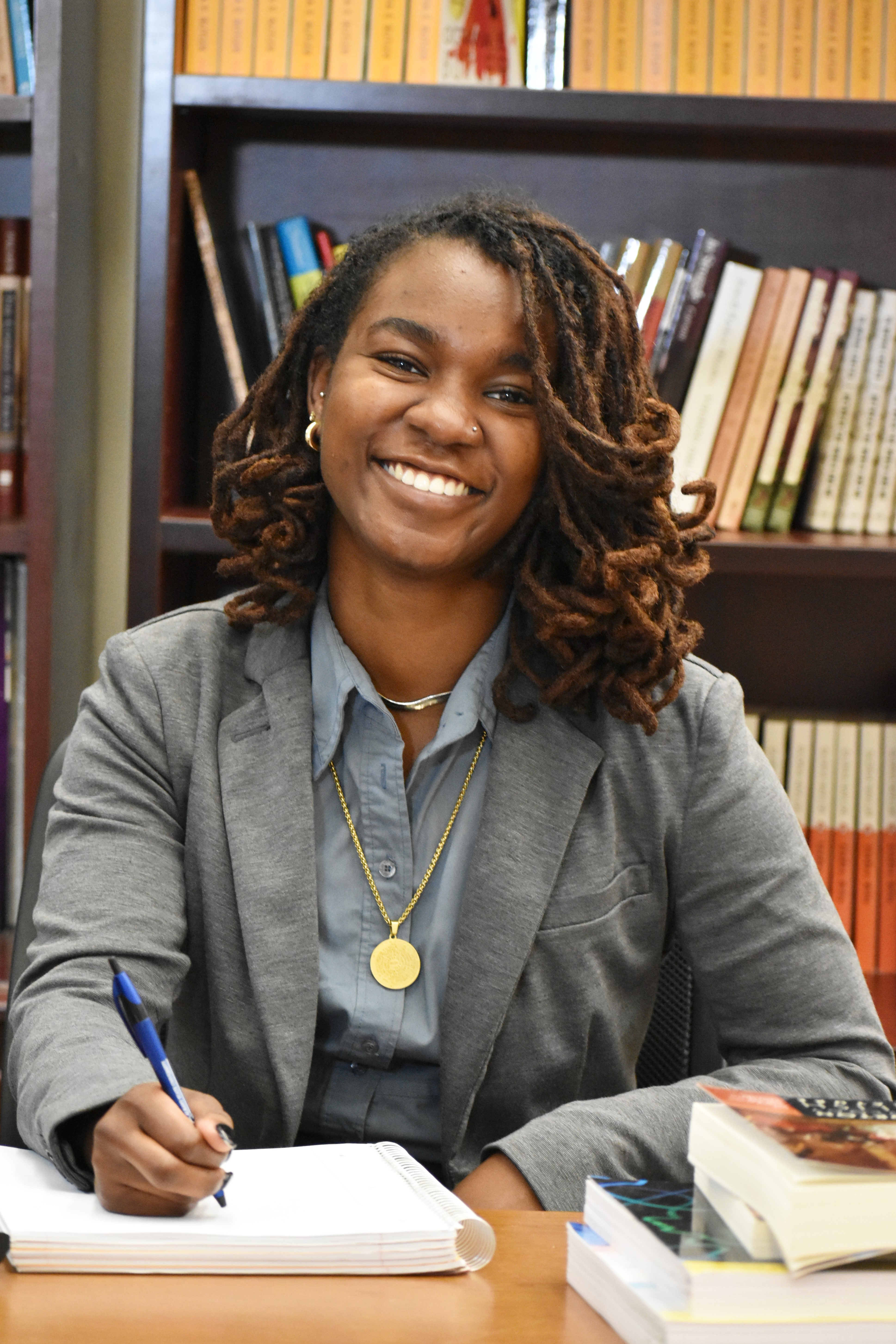 What motivated you to learn more about your chosen field?
As I researched the computer science field, I was captivated by how it can be used to complement and improve a vast variety of areas, including medicine, music, games, and education—just to name a few. In that moment, I wondered: if technology is so ubiquitous, how can it be secured? Then I thought, "wouldn't it be nice to be a security guard of the internet?" And that's when I fell in love with cybersecurity.
What are you most excited to learn about during your summer internship with CrowdStrike?
As a computer science major, working for a growing cybersecurity company is a dream come true. I'm excited to get acquainted with the corporate world of technology through this internship, to learn more about what it means to be a program manager, and to challenge myself and learn as much as possible.
How was your experience with the NFL's Battle of the Brains?
Picking a career was one of the most daunting things I had to do because I didn't see anyone who looked like me choose the same career or degree as me. It wasn't until I participated in the Battle of the Brains that I saw African American people working in industries that I believed I couldn't pursue. The Battle of the Brains was an opportunity that I am so grateful for being able to experience, because I've been introduced to a whole new level of achievement that I wasn't aware was possible.
Why did you choose ASU?
When choosing an institution for my education, it was crucial to analyze the school's mission statement. A mission statement serves as a summary of its values, which may be those of an organization, institution, or individual. ASU encourages creativity, values my professional and personal future, deeply values community, and understands my historical roots. In choosing Albany State University, I chose a university I can proudly represent, a university I know will accept me as one of their own, and a university I know will truly appreciate my contributions.
What do you love most about your chosen field?
Computer science, and technology in general is a field that is still evolving and growing each day. To be a part of the tech industry means that there's room for ideas, innovation, improvements, and creativity in all areas.
Who made the biggest impact on you at ASU?
Dr. Florence Lyons, Director of the Honors Program, has by far, impacted me the most here at ASU. My success is attributed to her dedication and loving nature. As a result of her endless support, I've been recommended and have been able to participate in many things, such as Battle of the Brains, which has led to so many other opportunities. Her drive for education and her expectation of excellence have genuinely changed the course of my life because she pushes for excellence in everything she does.
What are obstacles you've had to overcome to progress as a college student?
The struggles of defining your identity, finding your place, and establishing boundaries is universal. Initially going through these things is hard. However, as you meet new people, mentors, and become comfortable with your surroundings, you realize that ASU is your second home. I found comfort in that, and it removed all my doubts and worries and allowed me to flourish as a student and as a person.
What advice would you give to students with an interest in your field or at ASU?
Put yourself out there on campus and engage in what ASU has to offer because you'll meet great mentors and individuals. Represent yourself the way you want to be perceived. College is what you make it, so be accountable for your actions whether positive or negative.