Student Spotlight: Bethany Jackson
Bethany Jackson, a Macon, Georgia native, is a sophomore forensic science and chemistry double major at Albany State University (ASU). This summer, she will conduct research with professors at Washington University in St. Louis, Missouri on "Developing Stronger Seal Integrity during Geologic CO2 Sequestration." During this research, Jackson will learn more about geologic carbon sequestration as a method of securing carbon dioxide (CO2) in deep geologic formations. The process would prevent the release of CO2 into the atmosphere so that it does not contribute to global warming.
Jackson is a student committed to academic excellence and has held a 3.5+ GPA since enrolling at ASU.
Her current research is "Trend Analysis of Variance of Opioid Prevalence in Georgia, Mississippi, Alabama, and Florida," and the findings will be presented at the 2022 ASU Undergraduate Research Symposium in the fall.
She is also a member of the Velma Fudge Grant Honors Program, and the College Exchange Club.
What is your major at Albany State University and what motivated you to learn more about that field?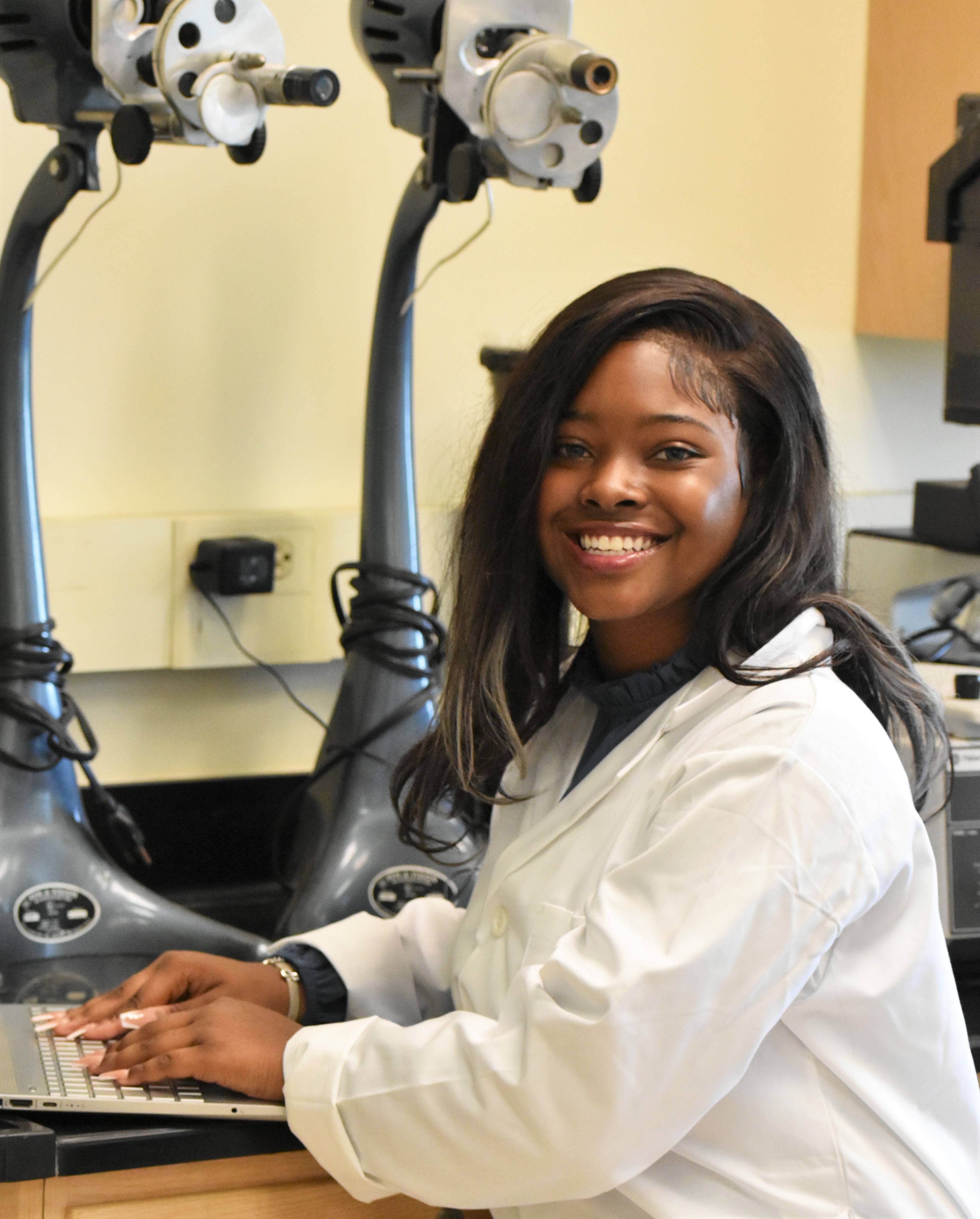 My major is forensic science and chemistry. This stems from my passion to work with the FBI one day.
Why did you choose ASU?
I chose ASU because the institution has everything I need and more, to create the career path that best fits me, especially since ASU is the only school in Georgia with an accredited Forensic Science program.
What do you love most about your chosen field?
I love the fact that my chosen career field is so diverse and complex. There is always going to be something new or different, and room to elevate in my field.
What are you most excited to learn about in your summer internship at Washington University?
Since I will be studying carbon dioxide, I am most excited to learn how to apply my research skills into other areas, specifically engineering, and how it relates to the world of chemistry.
Who made the biggest impact on you at ASU?
Dr. Florence Lyons has made the biggest impact on me at ASU. Without her, I wouldn't be in this program, or doing research at one of the top institutions. She really guided me to reach my fullest potential in anything I want to do.
What are obstacles you've had to overcome to progress as a college student?
As a college student, obstacles such as mental health, death in the family, and just stress are things I have had to overcome, but I didn't let them defeat me.
What advice would you give to students with an interest in your field or at ASU?
If you are interested in the forensic science and chemistry career fields at ASU, know that this field is based on science and research, so if you're interested, be ready to be hands-on and in the lab!