Albany State President Marion Ross Fedrick Among Georgia's 500 Influential Leaders
Albany State University (ASU) President Marion Ross Fedrick has been named one of the Most Influential Georgians by GeorgiaTrend Magazine. Her commitment to ASU demonstrates a standard of excellence. The list, comprised of 500 Georgian leaders driving the state's economy, was released in October.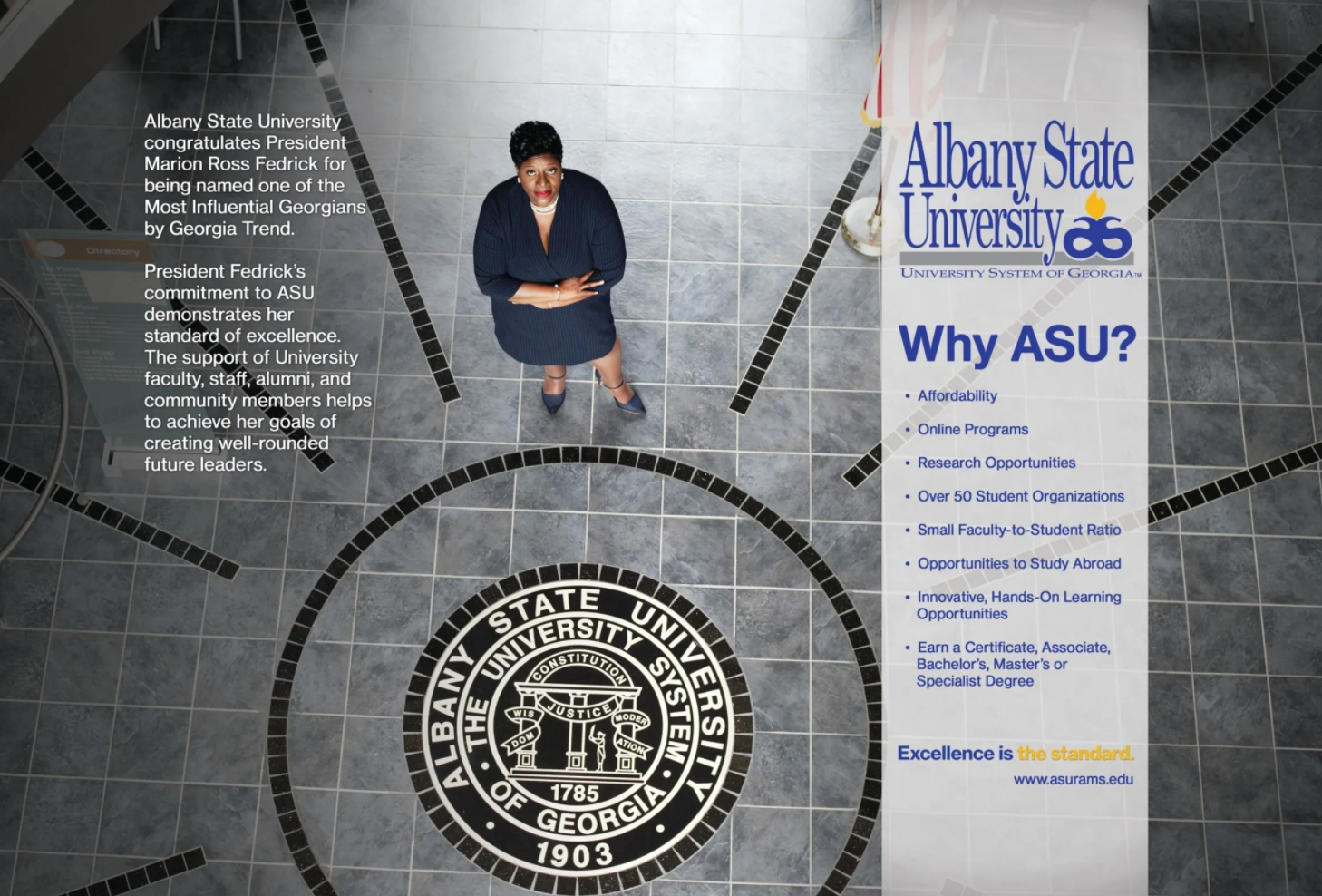 "It is an honor to be included in the inaugural list of Georgia Trends 500 influential leaders. This recognition highlights the collective achievements of the faculty, staff, and students at Albany State University and the significance of our mission to develop the next generation of leaders. As a first-generation college student, I understand the power of education; it is a game changer that opens doors of opportunity. We are proud of the work ASU is doing to develop future leaders while positioning them to take advantage of the endless possibilities that await them," said President Marion Ross Fedrick. "We are creating a standard of excellence and an environment where all of our students, faculty, and staff can thrive."
Marion Ross Fedrick was appointed as the 10th president of Albany State University on August 14, 2018, by the University System of Georgia Board of Regents. She was appointed after serving as both the interim executive vice president and interim president for the University since October 2017. President Fedrick is an accomplished senior leader whose proven expertise spans over 30 years. Her professional background includes: higher education administration, strategic planning, crisis management and strategic partnership management in both the private and public sectors.
Committed to the impact of academic development, Fedrick believes every student deserves access to an excellent and affordable education. Fedrick is a three-time graduate of the University of Georgia with a bachelor's degree in adult education, with a concentration in organizational development, a master's degree in public administration, and a doctorate in education.
As president of Albany State University, Fedrick continues to apply her diverse experiences and commitment to drive initiatives that ignite excellence. Under her leadership, the institution has undertaken several critical initiatives that include a redesign of the institution's academic colleges, approval of the University System of Georgia's first nexus degrees, and the design and implementation of the university's integrated student success model to include the creation of the Albany State University Summer Success Institute.
The intersection of her vision, passion, and broad leadership capabilities have placed her in key leadership roles throughout her career. Serving as the USG vice chancellor of human resources, Fedrick has led strategic initiatives relating to effective university administration, leadership development and human resource planning efforts at Clark Atlanta University, Emory University Hospitals, State of Georgia's Office of State Personnel Administration, AT&T, and the former BellSouth Corporation.