Commencement Spotlight: Abdul Mohammed, Associate of Science in Respiratory Therapy
Accepted Position As: Respiratory Therapist at Phoebe Putney Memorial Hospital
Abdul Mohammed, a 24-year-old Leesburg, Georgia native, will graduate from Albany State University (ASU) on December 10 with an Associate of Science in Respiratory Therapy degree. During his time at ASU, he served as the treasurer of the ASU Pre-Med Society and volunteered with the Islamic Center of Albany.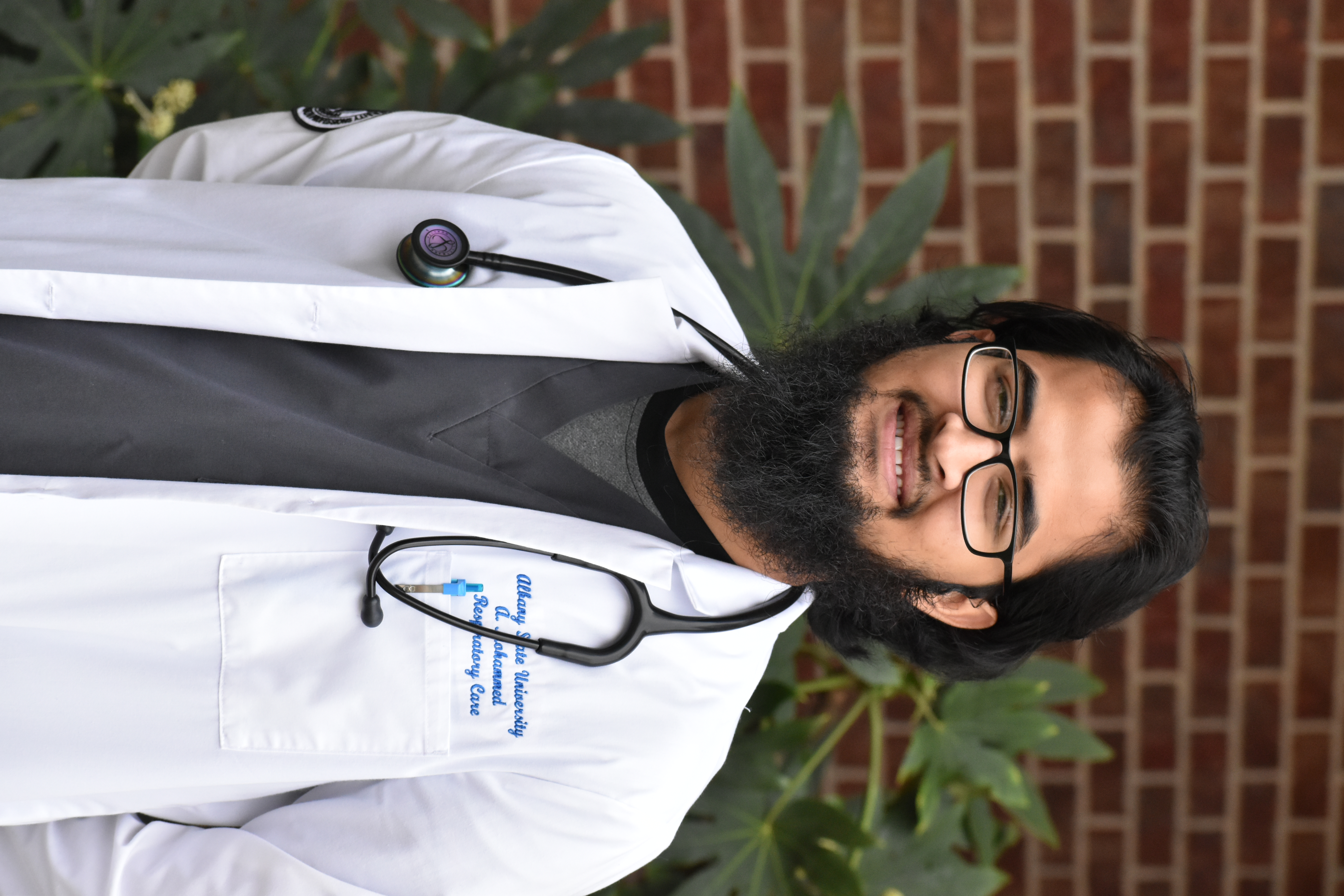 Committed to academic excellence, Abdul has earned many accolades, including third place in the 2017 STEM Poster Presentations and second place in the 2017 STEM Oral Presentations. He made the Dean's List for Outstanding Academic Achievement in his major of study. He was also the highest GPA-ranking student of all majors and a platinum scholar with the highest GPA in biology in 2016 and 2017.
In 2017, Abdul served as an undergraduate research assistant in the ASU Department of Natural Sciences for the biology program. During this internship, he investigated pesticide-induced cancer incidents in rural versus urban Georgia with ASU professor Dr. Seyed Roosta.

In 2018, Abdul completed a summer internship with the UConn Health Center at the University of Connecticut as an undergraduate research intern in biological and biomedical sciences for the Department of Skeletal Biology and Regeneration. During this internship, he investigated factors of inhibition of aberrant vascularity in a murine model of a juvenile growth plate injury. He has accepted a position as a respiratory therapist at Phoebe Putney Memorial Hospital in Albany, Georgia.
What motivated you to learn more about your field?
I have always been interested in helping others to immediately offer them some sort of relaxation. I believe the respiratory therapy profession provides me with the absolute best career to do just that. A respiratory therapist's main goal is to make sure our patients have a patent airway. A patent airway is the difference between life and death, and I believe that at ASU, I was given the training to be the best therapist.

Why did you choose ASU?
ASU offers a very strong college of health professions. They also offer many health profession programs, including the one that attracted me the most, which is the respiratory therapy program.
What do you love most about your chosen profession?
The ability to be flexible in the department that I want to work in, whether it is in the emergency room, where a patient's life is in your hands, or being in the operating room delivering a preterm baby.
Who has made the biggest impact on you and who do you consider to be a role model at ASU?
Dr. Richard Foreman is the best role model at ASU. He is eloquent in his teaching and prides himself because of his student's accomplishments. He can articulate very difficult topics into extremely easy-to-understand statements and is always available to help even when college is not in session.
What are you passionate about outside of your education?
My hobbies include enjoying new types of food, flying kites and drones, and swimming.
What advice would you give to other ASU students?
All the tools for success are available at ASU, and you must utilize them to reach your goals.
Why would you say to a high school student about choosing ASU to further their education? ASU is the beginning of your career; it lays a foundation for the road ahead. The individuals you meet at ASU will help guide and shape the life that you want to achieve.