Student Spotlight: Johnathan Holloway
Johnathan Holloway, from Atlanta, Georgia, is a junior visual and performing arts major with a concentration in music education. He will serve as Mr. Albany State University during the 2022-2023 academic year.
Holloway is involved in student organizations such as ASU Concert Chorale, Marching Rams Show Band, ASU Anointed Gospel Choir, SGA Spirit Committee, Alpha Kappa Mu Honors Society, and Council LGBTQ+ and Ally Student Syndicate (C.L.A.S.S.). He is a leader on campus, serving as Mr. Pre-Alumni Council, Mr. Honors Council, and President of the Golden Peaches.
He is also active in giving back to the campus by volunteering with ASU Buck Bank, Rams in Action, and the campus beautification events sponsored by Keep Albany-Dougherty Beautiful. Off-campus, he has volunteered with Boys & Girls Clubs of Metro Atlanta, Albany Rescue Mission, and Hands-On Atlanta.
A scholar committed to academic excellence, he has made the Dean's List for the past three years. He is the recipient of an ASU Foundation scholarship and a Thurgood Marshall College Fund scholarship. In 2021, Johnathan was awarded the Resident Assistant of the Year for Hall 5 on the East Campus.
Why did you choose Albany State University?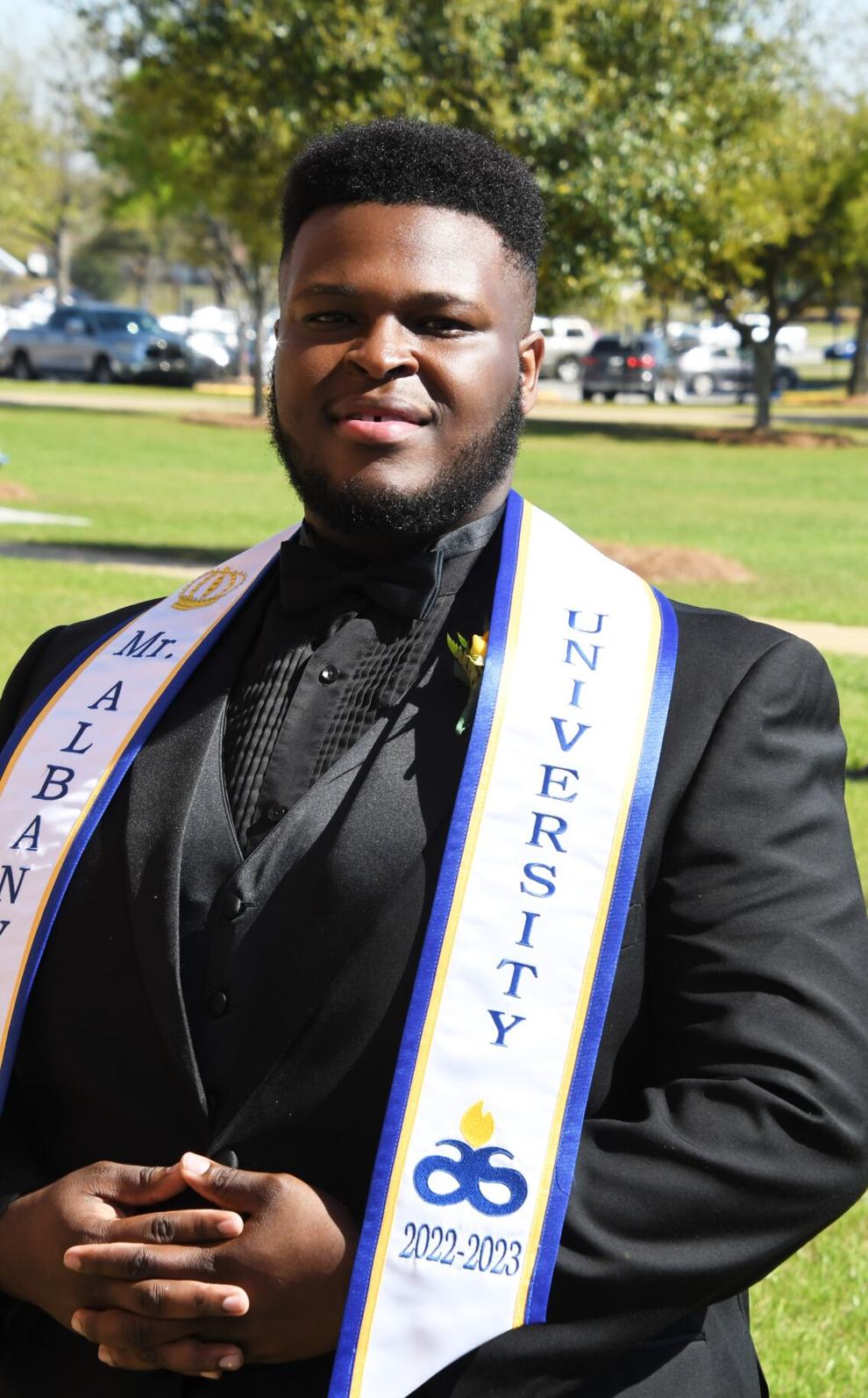 I chose Albany State University because ASU chose me first. When other colleges said no, ASU said yes. ASU was willing to take a chance on me, and I will forever be grateful for it.
What motivated you to choose your major?
What motivated me to choose my major was my love for music and passion for helping and guiding the youth.
As a member of the royal court, what is your platform and what are your goals?
My platform is Bringing a New B.E.A.T. to ASU: Believe, Encourage, Accept, and Transform. My goals for my platform are to increase student involvement on and off campus, especially freshmen and males; build on community partnerships and engagement; improve relationships between students, faculty, staff, and alumni; and show the meaning of being a Golden Ram.
What excites you most about the future of ASU?
What excites me most about the future of ASU is the growth of this institution from academics to the student body.
What advice would you give to other students interested in campus leadership?
The advice I would give is take that risk or chance but also make sure your heart and purpose align with it.
Who has made the biggest impact on you at ASU or consider to be a role model?
I can't really give one person who has impacted me the most at ASU. They say it takes a village to raise a child and my village is ASU, particularly my visual and performing arts family. Every person from the faculty and staff, the custodians, and my peers in some shape or form have impacted me.